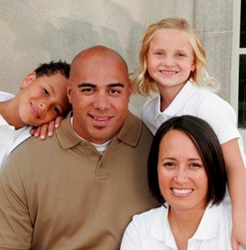 Every family needs a financial plan for their future.
New York, NY (PRWEB) April 21, 2014
April is the official National Financial Literacy Month and the adoption experts at Spence-Chapin know that all parents need solid financial knowledge to ensure their family's finances remain secure.
Financial planning is a critical part of the adoption process. Adoptions through a licensed agency can run anywhere from $5,000 to $50,000. In addition to court and other legal expenses, adoption fees may cover things such as home evaluations, post-placement supervision, travel and paperwork processing. From loans, grants, employer reimbursements, government subsidies and tax credits, potential adoptive parents explore all financial options as they plan to grow their family.
Spence-Chapin supports potential parents and adoptive parents by providing events, lectures, and resources by industry leaders that help parents establish and maintain healthy financial habits. On April 24, Paul Kapur, MBA, CRPC and Associate Vice President at Ameriprise Financial, will lead a financial workshop covering budgeting, wills, saving for college, insurance, retirement funds, and more. No matter what income level, amount of financial knowledge, or age, parents can learn how to give their family financial security. Everyone needs a plan for their future.
Spence-Chapin is a full-service adoption agency bringing over 100 years of experience to a new mission: creating permanent, loving families for children most in need - older children, siblings and children with special needs. We are growing the pool of willing adoptive parents by lowering the financial barriers to adoption. We are educating these families as they consider adoption and we're reducing their fears that can overwhelm the process. Through our Modern Family Center we are helping each family member navigate their individual adoption stories with clarity and confidence. Our mission is driven by the simple belief that Every Child Deserves a Family.