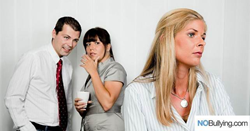 With this guide on harassment at work, we need to remind adults that bullying and harassment at work is becoming a dangerous wave of unkindness that breaks spirits every day everywhere.
London, UK (PRWEB) April 28, 2014
How can someone know without a shadow of a doubt whether they are being harassed at work or not? NoBullying releases today the guide to the top signs someone is harassed at work.
In fact harassment covers a large area that one might not be aware of. While sexual harassment is one aspect of harassment, so is bullying. The guide lists all signs of harassments as well the different types of harassment one might be facing at work. For example, sexual harassment in the workplace is a widespread epidemic among both men and women. For years women were the target of men's unwanted gestures and touches, in the workplace.
Now it seems that men are also the victims at their workplace as well. They too are being targeted, touched and forced to perform sexually, if they want to keep their job. This type of harassment is illegal and unfair. No one should have to submit to sexual gratification of another person, just for the privilege of working. Many companies have enforced strict workplace policies, which prohibit sexual harassment in the workplace. Employees and others who are victims of such harassment can report it safely to the proper departmental heads.
Over the years, laws have been passed to protect both women and men from such advances. Now it seems that another type of harassment is spreading in the workplace, just as quickly. It is bullying in the workplace. Bullying is considered harassment.
Signs of being harassed at work include being singled out at worked, even though the employee's work is beyond average. Bosses who like to show their control usually find someone they consider to be weak, and prey on their emotions. They make a spectacle out them in front of everyone. Another sign is being yelled at, called unpleasant names, and constantly criticized and humiliated in front of crowds of people. Another form of harassment is isolation, such as not being invited to meetings, lunches or activities held outside of work.
Another famous sign of employee harassment at work is that the employee's work is always in question or sabotaged by last minute changes or instant rule changes, this is clearly harassment. All companies should send out a memo to all employees about recent or upcoming changes. Everyone should know about trainings, meetings and workshops in advance, not the day of or the day after.
Macartan Mulligan, Co-Founder of NoBullying.com, said "With this guide on harassment at work, we need to remind adults that bullying and harassment at work is becoming a dangerous wave of unkindness that breaks spirits every day everywhere."
He added that parents and teachers should make a point to educate the younger generations about the sad outcome of bullying online and offline. According to Mulligan, it is quite imperative to press for more firm laws condemning all acts of bullying and harassment.
NoBullying.com features many pages dedicated to parents, teens, teachers, health professionals as well as posts related to cyber safety and the latest news about law making concerning curbing Bullying worldwide as well as inspirational Bullying Poems and famous Bullying Quotes.
The website regularly updates its bullying statistics and cyber bullying statistics as it is essential to understand what is bullying. It also regularly runs cyber bullying surveys and questionnaires to get recent updated statistics on everything related to cyberbullying.
He also added that anyone suffering from bullying in any form or way can always find advice and help on the NoBullying website – but if anyone is suffering from severe bullying or cyber bullying, the best thing is to talk to someone locally – a parent, teacher or local organization that has been set up to help with specialized counselors to deal with this topic.