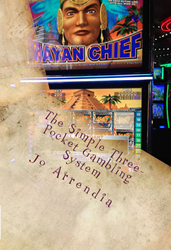 A new book about playing casino slot machines, "The Simple Three-Pocket Gambling System" uses simple illustrations, basic English and simple statistics, making it an easy read at an airport or while sunbathing.
Columbus, Ohio (PRWEB) April 24, 2014
Earlier this year, "The Simple Three-Pocket Gambling System" became available for purchase through online book retailers. Written with the recreational gambler in mind, the book describes a simple system to help gamblers keep winnings.
New author, Jo Arrendia used online self-publishing tools to publish her first book. Her new book is about playing casino slot machines for fun. Unlike other books about gambling, the author kept the book easy to read, without a lot of technical jargon, using simple illustrations to explain the probability behind playing slot machines. She avoids describing slot machines in detail in order to keep the reader's interest. In fact, the author describes a system for playing slot machines that turns the act of gambling into another game in itself, with the goal of essentially playing slots for free.
Originally published using the Lulu self-publishing website, the author published a second printing through Amazon's CreateSpace site in early March. "The Simple Three-Pocket Gambling System" is available in popular eBook formats including kindle, kobo, nook, iBook and epub. The kindle format remains universal with eBook and kindle readers available as free downloads for the Apple iOS.
Designed for travel, the printed copy is light weight, thin, and easy to stash into an outside pocket of a carry-on piece of luggage. It is an ideal packable for someone planning a vacation near a casino.