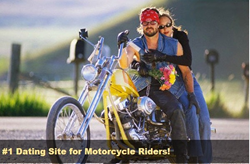 Los Angeles, California (PRWEB) April 24, 2014
How popular is motorcycling in your state? BikerKiss.com, an online dating community specially designed for motorcycle enthusiasts, recently did a survey on this. Based on 3 aspects, BikerKiss rated the popularity of motorcycling in each of the 50 states in the US and revealed the result on its website forum.
The first question BikerKiss raised was the simplest, most obvious way to measure motorcycle popularity: Which state has the most motorcycles? Not surprisingly, California came the first, followed by Florida, Texas and Pennsylvania. All populous states.
However, since the survey was about popularity, not quantity, this result is somehow lacking because some states have no way of competing with other states in population. Factoring this, BikerKiss put forward a motorcycle per capita solution. Interestingly, California plummeted from No.1 to No.43 and Texas went from the second highest down to the second lowest (No.2 to No.48), while some states jumped up to the top, with South Dakota, New Hampshire and Iowa being top 3.
There's one more way to measure the popularity: a state's power to draw in riders from other states. The third statistic BikerKiss gathered was how many famous motorcycle roads there are in each state. Among the Top 100 Motorcycle Roads in the US, California owns 8, Colorado 7, Arizona 6, making them respectively the 1st, 2nd, and 3rd in this aspect.
Data source: http://www.motorcycleroads.com/.