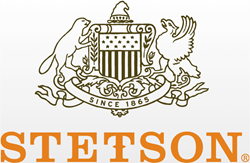 A "Stetson" is not a Stetson® unless it is ours.
(PRWEB) April 22, 2014
Stetson was first and foremost a man: John B. Stetson, a man with extraordinary vision as well as a down-home practicality, who, in 1865, created a hat that makes us proud to be part of the glorious progression of American history.
We take the occasion of our upcoming 150th birthday to remind all that John B. Stetson established a company as well as his original hat, and since 1906 the John B. Stetson Company has held the trademark registration for Stetson® in the United States.
A "Stetson" is not a type or style of hat. It is not a generic descriptor. We are flattered to be embedded in the consciousness of so many, but a "Stetson" is not a Stetson® unless it is ours, and we take our legacy – and our trademark – seriously.
Thanks kindly, and here's to another century and a half, at the very least!
About Stetson:
Founded in 1865, the Stetson brand got its name from its founder, John B. Stetson. Nearly 150 years later, Stetson has become a renowned provider of apparel, footwear, accessories, fragrance, home décor, and spirits-- spreading quality products with authentic American spirit to all corners of the globe. For additional information, please visit http://www.stetson.com/ or follow us at @StetsonUSA.