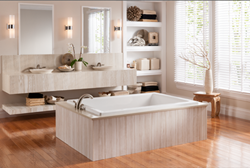 Growing demand for simpler, more pared down yet welcoming, comfortable and safe bathrooms inspired Aquatic to develop this group of tubs which makes contemporary high style affordable to a broader range of people.
Anaheim, California (PRWEB) April 22, 2014
With builders and homeowners increasingly embracing a simpler and more minimalist look in the bathroom, Aquatic today announced the launch of a new family of streamlined bathtubs that strikes a smart balance of sophisticated design, versatility and value.
The new product series from Aquatic – the leader in innovative and inspirational bathware -- represents an evolution of the minimalist aesthetic, with equal design weight placed on comfort, effortless features and ability to complement a variety of decors.
These sleek and gleaming DuraCore(TM) tubs feature clean lines, ergonomically angled backrests and deep bathing wells. They are available as soakers or six-jet whirlpools in five drop-in and three skirted models. Offered in standard and premium colors, options include Aquatic White, the whitest and glossiest finish available today, rivaling the appearance of more expensive acrylic but at a more affordable price. When combined with custom tile applications, the new tubs provide a striking designer look.
"In today's busy world, there's growing demand from builders and consumers for bathrooms that are calm and relaxing retreats – spaces with simpler, more pared down designs that also are welcoming, comfortable and safe," said Tom Kobel, Product Manager-Everyday Bathware, Aquatic. "That evolving trend inspired Aquatic to develop this group of tubs at a price point that makes contemporary high style affordable to a broader range of people. We expect this new series to meet an important need in the marketplace."
According to the National Kitchen & Bath Association's 2014 Kitchen and Bath Design Trends Survey, NKBA members now are designing more bathrooms with contemporary versus traditional styling although the opposite was true only a few years ago. Commenting on the survey results, John Petrie, President, NKBA, noted that the desire for spa bathrooms and Zen-like retreats is driving the ascendancy of contemporary style.
Aquatic's new tubs also beautifully complement the company's subway tile tub-showers, which have similar styling. Builders, architects, interior designers, other specifiers and homeowners can use both products in multiple bathrooms in the same home for a consistent, clean and modern yet warm and versatile look.
About Aquatic
Aquatic offers the largest and most innovative selection of tubs, showers and bathware accessories. The company's world-leading Hydrotherapy, Everyday and Accessible lines include more than 300 products for virtually every need – all inspired and made in America. Based in Anaheim, California, Aquatic serves distributors, builders, plumbing professionals, architects, designers and consumers through a nationwide network of state-of-the-art facilities for manufacturing, distribution and support. For more information, visit http://www.aquaticbath.com.
# # #