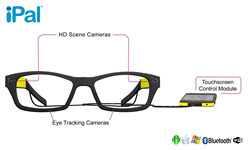 Siri is smart, but she was born blind. The next-gen personal assistant has to see what the user sees.
Dallas, Texas (PRWEB) April 22, 2014
i2i, Inc., a wearable technology start-up company, has launched an Indiegogo crowdfunding campaign to deliver iPal™, an intelligent personal assistant with eye tracking, gaze tracking and eye gesture controls. iPal digitizes what the eyes see and do, anticipates user needs, and simplifies how consumers capture photos and videos and applies them to their everyday lives. iPal pairs with Android™, iOS and Windows® devices for multiple user applications.
iPal has four cameras embedded in lightweight eyeglass frames: two high-definition cameras view the scene and two micro cameras follow eye movement. Patent pending, low-power dual eye tracking technology lets iPal know exactly where on a scene the eyes are focused. iPal understands common eye gestures, such as winks and blinks, and can learn user-defined eye gestures. The eyewear is thin, lightweight, and stylish, while a pocket-sized touchscreen control module houses the processor, battery and memory. Users can store images and videos locally on the control module, to a mobile device or in the cloud.
Dr. Masoud Vaziri, founder and CEO of i2i, Inc., was inspired to create iPal while photographing and recording special moments with his family.
"I didn't like to constantly hold a camera or worry about pointing it correctly. I couldn't interact with others and enjoy the moment," explains Dr. Masoud Vaziri. "Simply making a camera hands-free isn't the solution. Although hands-free, head tracking cameras capture mostly unseen or unwanted information. With iPal's eye tracking technology, you get what you see, hands-free and attention-free."
But iPal is more than just a smart camera. It is a new hardware platform and a wearable computer that accurately digitizes the human eye interface. Eye and gaze tracking technologies let iPal automatically see what a user's eyes see and do, and digitizes that information for use with various software applications. As an intelligent digital personal assistant, iPal can document one's day, know if a driver is about to fall asleep, read text, or recognize faces and objects for countless applications. iPal also can upgrade voice-based personal assistants, such as Siri®, by enabling them to see.
"We are visual beings and need digital assistants that can see what we see," Dr. Vaziri continues. "Siri is smart, but she was born blind. The next-gen personal assistant has to see what the user sees. Such an assistant can become an extension of the user, an integral part of his or her everyday life. iPal is a pal and a trusted companion."
iPal Key Features:

Optical Imaging System: eye and gaze tracking, and eye gesture coding and decoding.
Touchscreen control module
Pairs with Android, iOS and Windows devices
Multiple camera modes: single, burst, timed, random
Automatic zoom
Stores 8G locally; SD card slot for up to 32G additional storage
Wi-Fi and Bluetooth capable
Two hours of video recording time with a single charge; 24 hours of photo capture
Compact, foldable for easy storage
Accommodates prescription lenses
i2i, Inc. began developing iPal in 2008 and in 2013 completed a functional lab prototype. i2i is seeking funds on Indiegogo to deliver iPal to end users by the end of the year. Supporters of iPal can pre-order it at discounted prices throughout the campaign.
To learn more about iPal, visit meetipal.com.
iPal is a trademark of i2i, Inc. Other trademarks are the property of their respective owners.