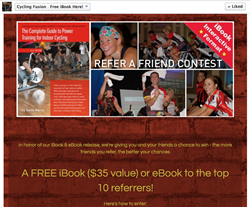 ...I have come to realize that not only are my target riders not going to the more cycling or racing specific on-line forums, but the instructors who wish to teach in a real cycling specific manner are not there as well.
Pittsburgh, PA (PRWEB) April 25, 2014
Facebook has just approved the app to help give away 10 copies of the new iBook. It is installed on its own dedicated Facebook page as well as Cycling Fusion's Facebook page. This is a sort of "flash contest" lasting only until the end of the day on May 1st. To enter, one just has to click on the "Free iBook" app on the facebook page and fill out name and email address.
This Facebook app approach recognizes that most racing types spend their time talking about riding on specific cycling forums. These forums are quite specific and these riders are often focused on the more technical aspects of power training. The sheer cost alone of an outdoor power meter is simply not practical for the average, avid touring or charity riding cyclist. Consequently, it makes good sense to learn how to train with power on a bike that you didn't pay for in the first place – the one at your gym.
Much of "keeping it real" indoors has gotten masked by the current trends from companies like Soul Cycling and Flywheel who do almost anything on the bike, little of which resembles actions or moves you would actually do outside on real bikes. The new iBook may be an eye-opener to anyone who thought these companies represent what indoor cycling or "Spinning®" is all about. For the pure fitness fanatic, it may indeed be just a crazy way to sweat a lot and burn calories. However, to those that ride inside only because they can't ride outside, or because they want to control the environment for specific training effects, the new iBook being promoted will demonstrate just how deep the rabbit hole goes when it comes to doing real Indoor Cycling.
"Having been a part of the racing community for so long, I naturally gravitated there. However, I have come to realize that not only are the riders my book is most likely to help not going to these more specific on-line forums, but the instructors who wish to train in a real cycling specific manner are often not there either. Facebook seems to be the biggest common denominator and so our investment into this app reflects that insight and new direction for outreach," stated author Gene Nacey.
Publishing "The Complete Guide to Power Training for Indoor Cycling" on an iBook format has also given readers a media rich resource. Within the 245 pages, there are 291 photos, 101 figures, charts and tables, 13 downloadable spreadsheets in both, Windows® and Mac formats, 6 narrated animations, 4 interactive graphics, and 3 downloadable wall charts. The new iBook is currently available in the iBook store and the eBook can be secured from Cycling Fusion's website.
About Cycling Fusion:
Cycling Fusion is a company dedicated to bringing the best of indoor and outdoor cycling together. On the national and international scene, we provide instructor certification, teaching tools, and streaming video classes led by internationally known master trainers and full blown cycling workshops delivered free with archived programs available for on-demand use. By promoting changes in the indoor cycling environment and teaching techniques, Cycling Fusion aims to bring more outdoor cyclists inside to train and more indoor cyclists outside to experience the joys of riding road or mountain bikes.