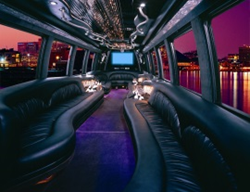 Smaller groups of party-goers looking for a Party Bus Vancouver experience might want to consider the Executive SUV Ford Excursion
Vancouver, BC (PRWEB) April 23, 2014
Royal, a Party Bus Company in Vancouver, has recently announced that it will be adding an executive SUV Ford Excursion to its fleet of high end party vehicles. This addition is made in order for the company to serve the varying needs of its clients, who require party buses and other vehicles of different sizes, depending on the number of people in the group and their luxury needs.
Smaller groups of party-goers looking for a Party Bus Vancouver experience might want to consider the Executive SUV Ford Excursion. This stretched SUV limo is a new addition to Royal Vancouver Party Bus's lineup of luxurious and lavish transportation vehicles, and is available for hire at very competitive rates.
Each Executive SUV Ford Excursion provides ample room for customers to relax in, looks amazing and features a wealth of amenities for people to enjoy. The limo is equipped with an iPod connection, allowing the luxury guests to play their own music, an excellent surround sound system, ensuring that party-goers have the best audio experience, flat screen televisions for entertainment, a rosewood bar for making drinks and staying refreshed, a mirrored ceiling and much, much more.
This Party Bus Vancouver vehicle can take up to ten people with no luggage, so that everyone can stretch out and enjoy the space, or eight people with luggage, if a client is looking for a luxurious way to begin a vacation out of the country, to another place in the Vancouver area, or to any of the beautiful ski resorts in the Vancouver area.
About Royal Vancouver Party Bus
Vancouver Royal Limousine service provides those looking for luxury with the very best in limos, sedans and party buses. Each vehicle has a fully decorated interior made just for parties and making a great impression.
For more information on Royal Vancouver Party Bus, simply get online and go to http://www.limobusvancouver.com.