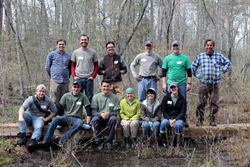 On Friday, April 18th, Marstel-Day, LLC celebrated its 13th Earth Day campaign with over one hundred and thirty employees giving back to their communities and the environment
Fredericksburg, VA (PRWEB) April 21, 2014
In keeping with its long-standing tradition and policy of company-wide Earth Day participation, on Friday, April 18th, Marstel-Day, LLC celebrated its 13th Earth Day campaign with over one hundred and thirty employees giving back to their communities and the environment across the nation. Marstel-Day's Fredericksburg and Alexandria, VA offices teamed up to complete five service projects in the Fredericksburg, Virginia region.
Returning to the Rappahannock River Valley National Wildlife Refuge's Port Royal Unit for the second year, a team of staff members helped repair fencing around the parking lot area; install kiosk and refuge signs; clear and perform maintenance on new and existing trails; install marking posts for new trail route; and clear access from the trail to kayak pull-up site. The Port Royal Unit is a 125-acre site along the Rappahannock River considered critical floodplain habitat for bald eagles and wintering waterfowl.
Marstel-Day also continued its partnership with Tree Fredericksburg, a local urban reforestation non-profit. A team of Marstel-Day staff members, along with a group of student volunteers from the University of Mary Washington, planted a total of 93 trees at two locations: Woodford Street, near Riverside Drive, and the Preserve Development off of Cowan Boulevard. To date, Marstel-Day has planted nearly 400 trees with Tree Fredericksburg.
Another crew of staff members worked with Friends of the Rappahannock to install a rain garden in the lower garden of Downtown Greens, a local community greenspace in downtown Fredericksburg. This garden will help reduce up to 2,300 gallons of potentially polluted storm water from running off into the Rappahannock River during future rain events. Just down the road at Marstel-Day's principal office, a team of staff members installed a garden on the Marstel-Day office campus. This native plant garden features butterfly and pollinator plants.
Continuing the theme of habitat restoration, a team of staff members had their boots in the mud to help transplant pitcher plants at Meadowview Biological Research Station in Woodford, VA. This non-profit organization is dedicated to preserving and restoring rare wetland plants, habitats and associated ecosystems. The activities completed by the Marstel-Day team contributed to Meadowview's larger pitcher plant bog and seepage wetland restoration efforts.
In addition to these staff activities, Marstel-Day also debuted a new installment of Vital Voices of the Environment, in which Marstel-Day President and CEO Rebecca R. Rubin interviewed the President of the Earth Day Network, Kathleen Rogers. In the interview, Ms. Rogers discusses the origins of Earth Day, their role as the world's biggest environmental recruiter, and what people can do to make a difference for the planet. The interview can be viewed on Marstel-Day's YouTube channel: http://youtu.be/B6X8D31grX0.
Marstel-Day, LLC, is an idea-driven, value-based environmental company offering green consulting to the public and private sectors. Since its inception in 2002, Marstel-Day has been committed to executing projects that enhance the environment and permanently conserve natural resources and wildlife habitat.