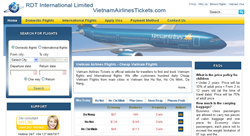 It is time to explore a new culture yourself.
Hanoi, Vietnam (PRWEB) April 21, 2014
Vietnam has been well known for not only its development and integration but also an attractive and promising destination in Southeast Asia in particular and Asia in general. With 3260-kilometer coastline from north to south, tropical climate and magnificent landscapes, this S-shaped country always brings new experiences, horizons, and passions.
Located in Indochina Peninsula, a cultural and commercial gate of many countries in the region, Vietnam has been favorite destination in the world for years. As one of the countries possessing long-lasting culture with 54 different ethnic groups of unique cultural identities, the country is the best choice for those who adore discovering untouched places of spectacular landscapes and new cultures. Trips to Vietnam will be definitely unforgettable. From an amateur climber adoring to conquer majestic mountains, a voyager loving to approach fishing villages hiding behind islands, to an adventurer wishing to explore the antique history, all will find memorable experience in this beautiful country.
To meet the need of traveling of adventurous people, Vietnam Airlines, the main of Vietnam, plays its role as a "bridge" bringing the world closer to this country. Nowadays, Vietnam Airlines exploits up to 21 provinces and cities in the country, and 28 international destination in 26 countries and continents, which provides tourists a plenty of choices to reach this country in the best way. As a member of IATA, the airline offers its high-quality services from comfortable seats, various rations, to entertainment application in flights. The flight network of Vietnam Airlines has up to 1000 international approaching points. All flights are arranged and set up conveniently and flexibly to meet all needs of traveling throughout Vietnam.
With the initial criteria of bringing customers the most conveniences, currently, Vietnam Airlines has flights to almost famous destinations in Vietnam, even to offshore islands. In addition, this airline provides tourists with a series of extended services such as searching for tours and joining attractive promotions. Specifically, summer is coming; beautiful beaches are waiting. What not get on plane and discover new horizons?
With various flights, tourists have chances to pop in all parts of the country just by booking, getting on plane, and enjoying wonderful trips throughout Vietnam from north to south, from lands to islands. Currently, Vietnam Airlines has launched new domestic and international flights to satisfy the desire of passengers on traveling Vietnam. In addition, many flights to Laos and Cambodia are exploited for tourists to travel these two countries conveniently from Vietnam. Traveling with Vietnam Airline will be the best choice to discover this beautiful country.
For more information for travel to Vietnam, please visit http://www.vietnamairlinestickets.com.
About VietnamAirlinesTickets.com
VietnamAirlinesTickets.com is a leading booking agent in Vietnam. VietnamAirlinesTickets.com offers hundreds of daily flights to cities like Ha Noi, Ho Chi Minh, and Da Nang. VietnamAirlinesTickets.com has international flights out of Hanoi and Ho Chi Minh City to other countries around the world such as Laos, Cambodia, Thailand, Malaysia, Singapore, Indonesia, Europe and America.
VietnamAirlinesTickets.com prides itself on keeping its customers happy by offering them the lowest prices on tickets and their customer friendly attitude is open 24 hours a day, 7 days a week.
Contact:
email: booking(at)VietnamAirlinesTickets(dot)com
call: +84.127.668.7977