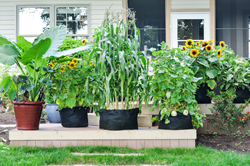 We believe Earth day is about all of us playing a part
Dallas, Texas (PRWEB) April 22, 2014
Gardenuity, the first social selling company focused on garden-inspired living, celebrates its national launch on the 44th anniversary of Earth Day. Earth Day was first celebrated on April 22, 1970. Its goal is to raise awareness of how our everyday activities affect our environment, the climate, and the health and well-being of everyone. "Everyday choices make an impact on you personally, professionally, and on the environment. Today millions of people are connecting with gardening and making the choice to grow at home versus buying from a store," said Kenny Mobley, of Gardenuity. "We believe Earth Day is about all of us playing a part because taking care of our world is a collective effort. Doing things like growing your own vegetables is a personal way of being a good steward of our resources."
"Launching nationally on Earth Day is in perfect alignment with our belief that you can grow anywhere. We all make choices: the choice to eat better, to improve our financial position, to find balance, and to be better stewards of our communities and resources," said Donna Spafford Letier, co-founder of Gardenuity. " Gardenuity is founded on these principles and celebrating our national growth on Earth Day is appropriate." Understanding that small steps can create big changes is one of our core missions. "'Grow anywhere' is about making healthy choices in what you eat, the products you use, where you work, and how you spend your time. We are building a strong and informed community of men and women who are smart, creative, and confident. We know it is possible to find this alignment in life by surrounding yourself with inspiring ideas, people and products," said Letier.
Gardenuity, which soft-launched in February, currently has associates in 17 states. It is a company growing more than just gardens. Gardenuity offers garden products of exceptional quality and flexible entrepreneurial opportunities for men and women. Gardenuity is the first social selling company that specializes in gardening and garden-inspired products. Find out more about Gardenuity and the entrepreneurial community of friends, gardeners, and garden enthusiasts who are ready to celebrate the start of a new, different kind of social selling company.