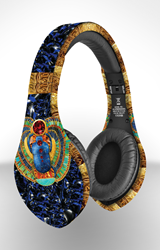 Los Angeles and Morgan Hill, Calif. (PRWEB) April 21, 2014
Talk about wearable technology.
In anticipation of Woodbury University's 50th Anniversary Fashion Show on May 8 at Club Nokia at L.A. Live, Woodbury has partnered with Velodyne Acoustics (http://www.velodyne.com) for a first-of-its-kind design competition using Velodyne vFree® on-ear wireless Bluetooth headphone skins as the medium.
Velodyne's line of 35+ silicon-based Designer Skins offers a wide array of unique looks, which enable consumers to instantly and easily change the appearance of the headphones to match the mood.
Models will saunter down the runway, clad in swimsuits, neoprene cover-ups and headphones with custom skins – all designed by second-year students, as part of the "2014 Sophomore Swim – Digiprint Challenge." Each year the Woodbury sophomore class in fashion design develops swimwear according to a unified design direction. The "Jewelry" theme of this year's digital prints will see swimwear emblazoned with everything from the majesty of ancient Thai ceremonial goldsmithing to ornate Egyptian lapis lazuli designs to the palatial Russian opulence of Peter Carl Faberge.
Each of the five winners will receive a $200 cash prize, a pair of vFree wireless headphones and the custom skin -- and the opportunity for Velodyne to include the winning design in a future production run. Winners were chosen by a team at Velodyne, evaluating a variety of criteria from color and contrast to feasibility of production. Six students, whose designs were not selected, will each receive vPulse in-ear headphones for their efforts.
The winners include:

Brittany Diego, from Belize: "Our culture is very festive so I have always been attracted to all things bright, colorful, and bold."
Elida Donat, from Los Angeles: "Clothing and creativity have always been a big part of my life -- my inspirations come from what I see in the beautiful city around me."
Mai Shoua Lee, from Merced: "I have the desire and full commitment to design garments inspired by my own roots. I will continue to dedicate myself to fashion design and inspire others who are around me."
Victoria Mendoza, from Southern California: "My passion in designing and creating relies solely on my desire to have a positive impact on another person's life."
Mariam Sabha, from Los Angeles: "My objective is designing fashion that is fun, humorous, and, most of all, innovative."
"We were impressed by each and every submission," said Kathryn Hagen, Chair of Fashion Design at Woodbury. "The students had so much fun doing this design competition, and all are thrilled to be able to share their work on the runway at L.A. Live. Skins are a terrific medium, and we're excited to see the finished headphones. We look forward to future collaborations."
"All of the Woodbury students did an absolutely stellar job," said Marta Hall, Velodyne president and herself a skins designer. "They immediately took to the medium and demonstrated vividly why we're so enthusiastic about this fusion of art and music. This is exactly what we hoped would happen once we made it possible to personalize a mainstay audio product like headphones."
About Velodyne
Founded in 1983 and based in California's Silicon Valley, Velodyne, Inc. is a diversified technology company known worldwide for its high-performance audio equipment and real-time LiDAR sensors. The company is widely recognized as the leading manufacturer of high-performance, low-distortion, powered subwoofers and an expanding line of technically innovative in-ear and over-ear audio products, which include interchangeable, custom-designed skins that enable audiophiles to personalize the look of their headphones. Velodyne products are available online at http://www.velodyne.com and from a select group of authorized dealers, custom installers and distributors worldwide. Since 2007, Velodyne's LiDAR division has emerged as a leading developer, manufacturer and supplier of real-time LiDAR sensor technology used in a variety of commercial applications including autonomous vehicles, vehicle safety systems, 3D mobile mapping, 3D aerial mapping and security. For more information, visit http://www.velodynelidar.com. For the latest information on new products and to receive Velodyne's newsletter, register here.
About Woodbury University
Founded in 1884, Woodbury University is one of the oldest institutions of higher education in Southern California. Woodbury offers bachelor's degrees from the School of Architecture, School of Business, School of Media, Culture & Design, and Institute of Transdisciplinary Studies, along with an MBA program, Master of Architecture (MArch), Master of Science in Architecture (MSArch), and Master of Organizational Leadership. A San Diego campus offers bachelor of architecture, Master of Real Estate Development for Architects (MRED), and Master of Science in Architecture, Landscape, and Urbanism degrees. Visit http://www.woodbury.edu for more information, and Reflections on Excellence, the twice-monthly blog written by Woodbury University President Luis Maria R. Calingo, Ph.D.