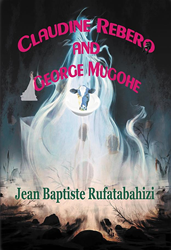 (PRWEB) April 20, 2014
His wife's ghost and other spirits advise George to offer a cow to his kin ghosts if he wants to get a new wife. He again declines and marries Claudine Rebero against his kin ghosts' wishes. George finds he is unable to make love to his second wife.
When Claudine leaves him, George finally decides to honor his kin ghosts. Afterward, George and Claudine reconcile. To thank Almighty God, the couple pays for a special mass. At the mass, high-ranking angels, famous ghosts, and George's kin ghosts attend. An angel then visits the two to tell them their of their bright and wonderful future.
CLAUDINE REBERO AND GEORGE MUGOHE (ISBN: 978-1-62212-089-5) is now available for $13.97 and can be ordered through the publisher's website:
http://sbprabooks.com/JeanBaptisteRufatabahizi or at www(dot)amazon(dot)com or www(dot)barnesandnoble(dot)com.
WHOLESALERS: This book is distributed by Ingram Books and other wholesale distributors. Contact your representative with the ISBN for purchase. Wholesale purchase for retailers, universities, libraries, and other organizations is also available through the publisher; please email bookorder(at)aeg-online-store(dot)com.
About the Author: Jean Baptiste Rufatabahizi lives in Kigali and teaches English at the College of Science and Technology, University of Rwanda. This is his fourth novel. The next is titled Pray, Forgive Everything and Live.
Strategic Book Publishing and Rights Co, LLC