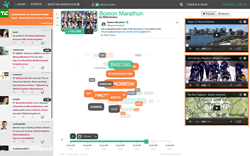 The Darwin Awareness Engine enables tweetzup to analyze mountains of tweets and show you what others with your shared interests are saying on your favorite topics — in this case, the Boston Marathon.
Boston, MA (PRWEB) April 21, 2014
Charles Thompson, CEO of Darwin Ecosystem LLC (http://www.darwineco.com), today announced the launch of the Boston Marathon tweetzup™ page http://www.tweetzup.com/bostonmarathon that uses the latest evolution of the award-winning Darwin Awareness Engine to help Marathon enthusiasts follow information events and trends as the race unfolds.
"We've dedicated a tweetzup page to the hashtag '#bostonmarathon' to help race supporters and fans follow the movement of human expressions to discover what is unfolding throughout the race," said Thompson.
"Our company and technology were born in Boston's innovation ecosystem," said Thierry Hubert, Darwin CTO and founder. "We believe that technology plays an important role and has a duty in continuously helping people improve their innate awareness. This is why we felt it important to provide free access to our technology during this year's Marathon."
"One year ago, during the development of tweetzup, our system issued alerts, related to terrorism and Boston, which were sent to my email three minutes after the tragedy occurred," Hubert continued. "The momentum of the crowdsourced expressions people were tweeting was captured by our system and triggered this alert. This year we hope to see that crowd-sourced momentum return to a positive direction, reflecting the spirit and goodwill of the Marathon. We also expect a surge of expressions recognizing the anniversary of the tragedy, with a great deal of reflection being shared by many and collected and presented on tweetzup.
"Tweetzup manages the overabundance of tweets received everyday by Twitter users," explained Hubert. "Twitter users find it increasingly difficult to glean relevant information from Twitter without sifting through a mass of irrelevant tweets. Tweetzup allows any user to subscribe to, and create, personal pages that correlate, analyze, and curate tweets to make it easy for the user to see what is fresh and trending on a specific topic of their choice — without having to read every tweet."
"Tweetzup filters massive streams of tweets and provides visualization of patterns of human expression to let users see evolving patterns in the Twittersphere," concludes Hubert. "By navigating emerging patterns of tweets (ranging in time from 10-minute to daily intervals) users gain easy insight into their areas of interest."
Darwin Ecosystem
Darwin Ecosystem LLC (Darwin) is a Software as a Service (SaaS) company based in Arlington, Massachusetts, and Wayzata, Minnesota. With the ever-increasing volume of information published on the Web, it is increasingly difficult and time consuming to be truly aware. The Darwin Awareness Engine addresses this challenge by providing users with organically curated information in a timely and efficient manner. Learn more about Darwin and its flagship products at http://www.darwineco.com; follow us on Twitter at @darwineco.