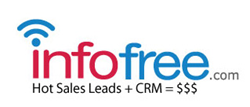 San Mateo, CA (PRWEB) April 21, 2014
The industry leader in sales leads, mailing lists and email lists is happy to announce its site is now optimized for iPad and tablet usage. Subscribers can now use infofree.com directly on their tablets or iPads and also bookmark the site in just one click. By bookmarking the site directly to their home screen, users can have their infofree.com username and password saved for easy login. This new option means small business owners and sales professionals can access quality sales leads quickly from anywhere, at any time.
"In the digital age, it is mandatory to provide mobile users with easy access to products," said Vin Gupta, founder of infofree.com. "Offering our customers mobile access to the site means everyone has the ability to find leads and grow sales on the go."
Infofree.com is known for providing quality sales leads and accurate information on over 16 million businesses, 225 million consumers, 100 million homeowners and more. Along with over 200 up-to-date databases, a subscription to infofree.com also includes:

Free customer relationship management program, CRM101
Unlimited background searches
Unlimited business credit reports
Complimentary email marketing
Over 150,000 users trust infofree.com for the most up-to-date data available.
To try Infofree, call 877-448-0101 or visit http://www.infofree.com for more information.