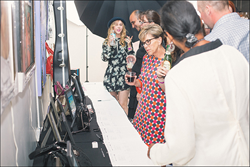 "We are honored to have been a part of this fundraising effort. Jackie is near and dear to the Botanica family, and so we are thrilled to have been able to help in any way." -Gen Obolensky, Owner, Botanica Day Spa
Clearwater, Florida (PRWEB) April 23, 2014
In a continued effort to give back to the local community, Botanica Day Spa has participated in a fundraising event in aid of a local family whose daughter is battling ovarian cancer. The "Support Jackie Soirée," which took place on April 11th, 2014, was hosted in Clearwater at the studio of K&K Photography.
Attended by supporters from across Tampa Bay, the night's fundraising efforts brought in more than $10,000. All of the proceeds from silent auction sales, raffle tickets, suggested donations at the bar, entrance wristbands and custom-made jewelry sales went to Jackie's cancer treatment fund.
Botanica was among more than 20 local businesses including local massage therapists, chiropractors, dentists and artists who donated items and services to the evening's event. Famed fashion designer Rebecca Minkoff donated merchandise for the silent auction which also included massage vouchers, paintings, gift baskets, dental and chiropractic services, gift certificates to local shops, professional cake design services, home pressure washing services as well as designer handbags and more.
"We are honored to have been a part of this fundraising effort. Jackie is near and dear to the Botanica family, and so we are thrilled to have been able to help in any way," said Gen Obolensky, owner of Botanica Day Spa. "Given the opportunity to help a community member through a very difficult situation, we jumped at the chance to participate," she added.
"I personally feel very lucky to be part of such a tight-knit and giving community here in Tampa Bay," said Jeff Kathrein, owner at K&K Photography and a host of the event. "The generosity of local businesses like Botanica as well as event planning vendors and other donors is what made this event a success. Everyone involved in this fundraiser has been so willing and eager to help Jackie and her family. It's both touching and inspiring, and we are proud to have been a part of it."
Fundraising for Jackie's treatment is ongoing. To learn more about her story and how you can help, please visit their Give Forward campaign website: http://bit.ly/1qW0pzY.
ABOUT BOTANICA DAY SPA:
Located in downtown Clearwater, Florida, Botanica Day Spa specializes in natural treatments for the body, skin and nails. Recognized by Creative Loafing in 2013 as one of Tampa Bay's premiere day spa facilities, Botanica was voted "Best of Tampa Bay" for Brazilian bikini waxing, eyebrow shaping and therapeutic massage by CitySearch in 2010. With an emphasis on the use of organic and natural product lines in a cutting edge beauty services setting, Botanica's staff is comprised of 12 fully licensed aestheticians, nail technicians, massage therapists and makeup artists. For more information, please visit http://www.BotanicaDaySpa.com.