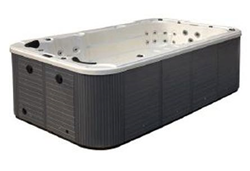 (PRWEB) April 25, 2014
XC Spa is announcing a special offer on all its swim spas for the USA and EU markets. The company hopes to expand its market share through high quality products and a series of promotions.
Now, the friendly and helpful spa team of XC Spa is ready to talk to customers about booking or to explain and recommend treatments. The global consumers can know the key benefits of XC Spa's swim spas and hot tubs easily; those products have been very popular on the market.
XC Spa focuses customers' holistic well-being and the nourishment of their minds. All its spa products come in different designs and custom services are also available here. XC Spa has specially recommended its popular swim spa 821, which is suitable for 1 persons lying inside and 5 people sitting inside, enjoying the massage and spa.
XC Spa is a renowned spa company that specializes in the designing and manufacturing spa products like far infrared sauna, outdoor spa pools and more. The business provides the highest quality spas, hot tubs and saunas with the highest quality of customer service and care. Customers can always find what they need on this company's official website.
About XC Spa
XC Spa is a ISO9001:2000 certified company offering a wide range of Spa products, especially hot tubs, outdoor spa and swimming spa tubs. The company's products go through a strict quality-control process, and they are resistant to weathering, warping and scoffing. Premium product quality and great customer service are the reason that their products are widely recognized by the customers worldwide.
For more information, please visit http://www.xcspa.com/swim-spa/swim-spa-821.html.