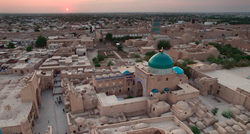 Uzbekistan is a fascinating destination with plenty to offer adventurous luxury travelers
(PRWEB) April 21, 2014
Remote Lands, Inc., the world's leading ultra-luxe Asia travel designer, expanded into Central Asia this week with the launch of its new range of private luxury Uzbekistan tours.
Uzbekistan boasts a culture over 2,700 years old and has been ruled by the likes of Alexander the Great, Genghis Khan and Tamerlane, the latter leaving his mark on one the country's most popular destinations, Samarkand. Other essential destinations include the Silk Road capital and UNESCO World Heritage site of Bukhara, the stunning Fergana Valley, the spectacular Pamir Mountains, and the capital Tashkent.
Remote Lands has collaborated with suppliers of the country's finest travel experiences to put together a range of superb Uzbekistan itineraries, including "Classic Uzbekistan", "Ancient Wonders of Uzbekistan by Train", and "Following Uzbekistan's Ancient Silk Road"; travelers can also work with Remote Lands to create their own private tailor-made Uzbekistan itinerary. Whichever option travelers choose, they will benefit from the best guides, vehicles and hotels that Uzbekistan has to offer.
"We're delighted to offer this fantastic new destination to our clients," said Jay Tindall, Remote Lands' co-founder and COO. "Having recently returned from a visit to the country I was amazed by its ancient historic monuments, beautiful landscapes and most of all, the warm welcome of its people. Uzbekistan is a fascinating destination with plenty to offer adventurous luxury travelers."
Tindall added that Uzbekistan was the first of several Central Asian destinations to be offered by Remote Lands, with other countries to launch shortly. "Uzbekistan's location at the heart of Central Asia makes it a great springboard to the rest of the region, and we'll be rolling out more Central Asian destinations in the very near future," he said.
To find out more about visiting Uzbekistan with Remote Lands, visit the company's website which includes destination guides, hotels, itineraries, photo gallery, videos and blogs about its team's own personal experiences in the country, or email info(at)remotelands(dot)com.
About Remote Lands, Inc.
Remote Lands, Inc. creates highly personalized, ultra-luxe holidays in Asia, optionally by private jet or yacht. Based in New York and Bangkok, they specialize in extraordinary experiences that are difficult to arrange and require privileged access to important people and exclusive events, drawing upon their relationships with remarkable people around Asia. They distinguish themselves with their unparalleled service, creative itineraries and extreme attention to detail.
Remote Lands has been featured in The New York Times, The Wall Street Journal, Departures, Travel + Leisure, Condé Nast Traveler, Town & Country, the BBC, Fox Business News, Financial Times, National Geographic Traveler, W, Newsweek, Forbes, BusinessWeek and more.