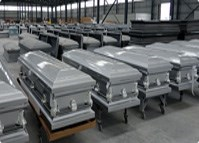 (PRWEB) April 23, 2014
Millionaire Casket, a leading casket manufacturer that offers a wide range of caskets, has recently introduced its new designs of metal caskets. Moreover, the company has launched a special offer on its metal caskets; the promotion is valid until May 30, 2014.
Millionaire Casket specializes in designing and manufacturing high quality casket products, and its high quality products have brought much satisfaction to its customers worldwide. The company has a commitment to become a well-known casket brand in the world.
The new designs are offered in a variety of metals like bronze, copper and stainless steel. The company is willing to accept OEM orders from all customers. As other products from this company, the new metal caskets are featured with rich choices and high-quality craftsmanship. According to the vice president of the company, each metal casket comes with a special locking system, which makes it hard to open once a casket is closed.
The vice president says, "Metal caskets are popular in the market now, because they can present a most prestigious statement. Metal caskets are considered to be the highest quality available in caskets. The most significant feature difference between metal and wood caskets lies in how the lid closes against the shell of the casket."
MillionaireCasket.com's products go through a strict quality-control process, and they are resistant to weathering, warping and scoffing. Premium product quality and great customer service are the reason that their products are widely recognized by the customers worldwide.
About MillionaireCasket.com
MillionaireCasket.com is a leading casket company that focuses on the business of casket wholesale. This company offers an exquisitely crafted line of all kinds of metal caskets, solid wood caskets, veneer caskets, cremation caskets, rental caskets, orthodox caskets, infant or over-sized caskets and European style coffins. The standard quality control policy is strictly applied here, and a third party quality assurance is also available.
More information can be found at http://www.millionairecasket.com/.