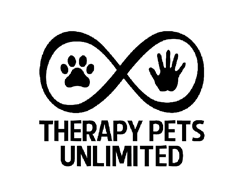 Nottingham, MD (PRWEB) April 23, 2014
Therapy Pets Unlimited, a newly formed Maryland not-for-profit that brings the healing aid of pets to patients, is hosting two fundraisers at area restaurants to help support their organization.
Enjoy the recently opened Green Turtle in White Marsh on April 29th where customers who bring in the official fundraiser flyer will have 20% of their bill donated to Therapy Pets Unlimited.
On May 3rd the fundraising continues at Bill Bateman's in Perry Hall from 1pm to 6pm where 10% of a customer's bill will be donated to the charity.
"Up to 85% of nursing home residents have NO regular visitors. That's a huge number of people. We are about easing this kind of pain in our communities through the unique therapy of friendly pet visits," states founder and Executive Director Vicki Rummel. "We are taking the first steps to get up and running. We have a business plan and we have a budget. Now we need your help in funding our initial goal of $25,000."
Therapy Pets Unlimited delivers the unique treatment of pet therapy to nursing homes and hospitals to ease stress and the pain of grief and loneliness. Pet therapy includes animal-assisted therapy and activities to help people cope with or pull through health problems. "While most of our volunteers have dogs, TPU is unique in that we are open to all kinds of therapy pets," Vicki says.
With the help from these fundraisers, TPU hopes to get the ball rolling on their organization's mission to help nursing home and hospital patients lessen their day to day distress.
If you would like to donate to Therapy Pets Unlimited Inc. please visit their Paypal or Amazon account. You can also find them on Facebook and Twitter @TherapyPets.
About Therapy Pets Unlimited Inc.
Therapy Pets Unlimited is a not-for-profit 501(c)(3) (pending) volunteer organization that focuses on easing grief, stress and loneliness through friendly pet visits.