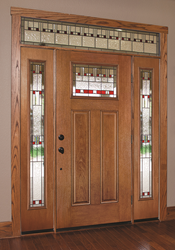 Maumee, OHIO (PRWEB) April 22, 2014
Everyone knows fiber in a diet can be good for people, but what about fiber in the home? According to the experts at Therma-Tru, fiberglass entry doors can be beneficial for homeowners and their houses.
"The bottom line is that durable fiberglass doors are energy efficient, resist rust, dents and rot, and are easy to maintain," says Brad Johnson, vice president of marketing for Therma-Tru Corp. "These are all important aspects for a product that can bring years of beauty to the home."
More than 90 percent of Therma-Tru® door and glass options are ENERGY STAR® qualified and National Fenestration Rating Council (NFRC) certified, which helps homeowners save money on energy costs.
Built with a polyurethane foam core, Therma-Tru fiberglass doors insulate against cold and heat for exceptional energy efficiency. The core essentially creates an energy-efficient entrance to the home, helping stabilize interior temperatures. With that polyurethane foam core, fiberglass doors offer homeowners up to four times the insulating R-Value of wood.*
When adding decorative or privacy glass to a fiberglass door, Therma-Tru products feature triple-pane construction, creating an exceptional thermal and acoustical barrier. Factory-coated Low-E glass, available as an option, delivers additional energy efficiency. And, with components engineered to work together to help maximize the seal between the door and the frame, the Therma-Tru fiberglass door helps keep heating and air conditioning sealed in the house to boost home energy efficiency.
"Fiberglass 'skins' on the doors provide durability and long-term performance," says Johnson. "A fiberglass door will not warp, split or crack. Because wood doors can absorb water, they can peel, bow, warp, rot or twist and wood is vulnerable to fading from sunlight. With a steel door, you run the risk of denting and scratching (which can lead to rust) and also paint chipping. A fiberglass door does not develop any unhealthy bi-products such as mold or rust."
Therma-Tru fiberglass door systems are meticulously crafted for reliable performance. From the glass to the hinges, the company's doors include time-tested components that are held to high standards. "Therma-Tru stands behind more parts of a door system for longer than other door companies because we make or specify everything that goes into the door," says Johnson. "And, a Therma-Tru fiberglass door system is backed by the industry's most comprehensive lifetime limited warranty."**
About Therma-Tru
Therma-Tru is the leading entry door brand most preferred by builders and remodelers. Founded in 1962, Therma-Tru pioneered the fiberglass entry door industry, and today offers a complete portfolio of entry and patio door system solutions, including decorative glass doorlites, sidelites and transoms, and door components. The company also offers low-maintenance Fypon® urethane and PVC products. Headquartered in Maumee, Ohio, Therma-Tru is part of Fortune Brands Home & Security, Inc. (NYSE: FBHS). For more information and product warranty details, visit http://www.thermatru.com, http://www.fypon.com or call (800) 537-8827.
###
ENERGY STAR is a government program that helps consumers protect the environment through superior energy efficiency and is a registered trademark of the U.S. Department of Energy and the U.S. Environmental Protection Agency. See http://www.energystar.gov.
*Comparison of fiberglass to wood doors (both without glass).
**Visit http://www.thermatru.com for details on limited warranties and exclusions.