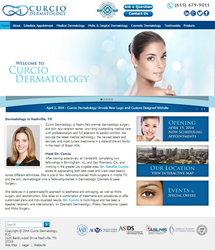 "This was the only place in town I wanted to be," Dr. Curcio said. "I wanted to be in the middle of everything."
Nashville, TN (PRWEB) April 22, 2014
Curcio Dermatology, the practice of Natalie Curcio, M.D., M.P.H., opened April 15 in Grace's Plaza in Green Hills. The well-appointed practice is Nashville's premier dermatologic surgery and skin rejuvenation center. Curcio Dermatology offers the latest medical technology, the newest dermatologic lasers and devices, and most current treatments. Curcio Dermatology staff provides outstanding medical care with professionalism and full attention to patient care. Curcio Dermatology offers a wide range of dermatological services including medical dermatology, cosmetic dermatology, and surgical dermatology, including the Mohs micrographic surgery for skin cancer treatment.
Dr. Curcio completed her undergraduate and medical education, including her dermatology residency, at Vanderbilt. As additional training, Dr. Curcio completed two prestigious fellowships, one in dermatologic cosmetic and laser surgery and another in Mohs micrographic surgery, a groundbreaking skin cancer surgery treatment. She is one of few fellowship-trained Mohs surgeons in middle Tennessee and the only dermatologist in the area who is fellowship-trained in dermatologic cosmetic & laser surgery. Her fellowship training took place on both coasts, so Dr. Curcio is well versed in both east coast and west coast standards of beauty across different ethnicities. She speaks multiple languages and lectures nationally and internationally on cosmetic dermatology, Mohs surgery, and other current topics in dermatology.
When it came to selecting a location for her own practice, after spending a year working in Los Angeles, Dr. Curcio knew exactly where she wanted to be. A Green Hills resident herself, she recognized the opportunity to connect with savvy Green Hills and Nashville residents seeking high end dermatology treatments and procedures.
"This was the only place in town I wanted to be," Dr. Curcio said. "I wanted to be in the middle of everything."
Curcio Dermatology is now scheduling appointments. The office is located at 2125 Bandywood Drive in Nashville, in Grace's Plaza between Trader Joe's and the Hill Center. To learn more about Dr. Curcio and Curcio Dermatology, or to schedule an appointment, visit curciodermatology.com.