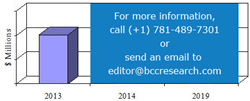 Global Market for Thermal Management Products to Reach $14.7 Billion in 2019
Wellesley, MA (PRWEB) April 22, 2014
BCC Research (http://www.bccresearch.com) reveals in its new report, THE MARKET FOR THERMAL MANAGEMENT TECHNOLOGIES, the global market for thermal management products is expected to grow to $14.7 billion by 2019, with a five-year compound annual growth rate (CAGR) of 6.8%. The hardware category, the largest segment overall, is expected to comprise 80% of the market.
As a result of the widespread introduction of microelectronics, together with the increasing demands on their functionality and reliability, thermal management has become an important issue in almost every branch of industry, including professional and consumer electronics systems as well as automobile electronics, electronic lamps and domestic appliances.
The largest end markets for thermal management products in 2013 were the computer industry (35.2% of total revenues), renewable energy (14.7%) and telecommunications (13.4%) equipment. Computers' market share is expected to fall to 26.7% by 2019, while renewable energy's share increases to 16.2%. Telecommunications equipment's share should drop slightly to 12.9%.
"The Asia-Pacific market should maintain its number-one position throughout the period under review, with a market share of about 65%, followed by North America with around 19%," says BCC Research semiconductor analyst Andrew McWilliams. "The Asia-Pacific countries are not only the largest market in absolute terms, but they also have the highest projected growth rate with a CAGR of 7.8%."
THE MARKET FOR THERMAL MANAGEMENT TECHNOLOGIES provides an overview of the global market for thermal management devicies, including analyses of global market trends, with data from 2013, estimates for 2014, and projections of CAGRs through 2019. A discussion on the competitive aspects of each product segment, along with several successful suppliers' strategies in the market. In addition, the report presents a current industry directory, a survey of recent U.S. thermal management patents and patent applications pending, and profiles of a selection of the leading thermal management suppliers.
This report is intended especially for suppliers of thermal management technologies and products, and others with a need to understand the status and dynamics of the market for these products.
Editors and reporters who wish to speak with the analyst, should contact Steven Cumming at steven (dot) cumming (at) bccresearch (dot) com.
About BCC Research
BCC Research publishes market research reports that make organizations worldwide more profitable with intelligence that drives smart business decisions. These reports cover today's major industrial and technology sectors, including emerging markets. For more than 40 years we've helped customers identify new market opportunities with accurate and reliable data and insight. These include, but are not limited to, market sizing, forecasting, industry overviews, and identification of significant trends and key competitors. We partner with analysts who are experts in specific areas of industry and technology. Their up-to-date knowledge gives our customers unbiased measurements and assessments of these vital markets. Because our reports offer a global focus, our customers include the top companies in industries around the world as well as universities, major business schools, start-ups, consulting firms and investment companies. BCC Research is a unit of Eli Research LLC.
Data and analysis extracted from this press release must be accompanied by a statement identifying BCC Research LLC, 49-2 Walnut Park, Wellesley, MA 02481, Telephone: (+1) 781-489-7301; Email: editor (at) bccresearch (dot) com as the source and publisher. Thank you.