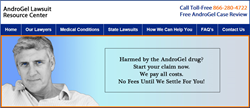 (PRWEB) April 28, 2014
Buckfire & Buckfire, P.C. recently launched a new AndroGel drug lawsuit website, http://www.androgellawsuitlawyer.com, as a comprehensive resource for patients who have or are currently taking AndroGel testosterone replacement therapy. Several recent studies have allegedly demonstrated that testosterone drugs, such as AndroGel, can allegedly increase the risk of several serious medical conditions, including heart attack, stroke, cardiac arrest, pulmonary embolism and even death. (The Journal of American Medical Association, November 6, 2013, http://jama.jamanetwork.com/article.aspx?articleid=1764051)
The AndroGel drug lawsuit website is a resource center to patients and their families who are seeking more information about the alleged life-threatening injuries associated with the drug. The website includes specific information about each medical condition allegedly linked to the use of AndroGel including:

Heart Attack
Stroke
Blood Clots
Pulmonary Embolism (PE)
Deep Vein Thrombosis (DVT)
Wrongful Death
In addition to providing information about the alleged associated medical conditions, the website informs patients about their legal rights if injured and provides updated news on the latest AndroGel testosterone lawsuits being filed in courts. The website also answers several frequently asked questions about the testosterone drug, explains the process of filing an AndroGel drug lawsuit, and includes updates by the U.S. Food and Drug Administration (FDA) regarding AndroGel and several other similar low testosterone treatment therapies. Visitors will be informed about the filing of AndroGel class action lawsuits and how to join those lawsuits.
Every state does have its own unique set of laws and procedural filing requirements for dangerous drug lawsuits. The website provides an interactive map of the U.S. so that patients may learn more about the state laws that pertain to them (where they live or where they have used the AndroGel testosterone replacement.) Visiting the website will also help patients learn more about the top rated lawyers of Buckfire & Buckfire, P.C. and how they are able to help them with their AndroGel drug lawsuit.
The number of patients who allegedly suffer harm may unfortunately increase due to the fact that the drug is a very common treatment for hormone replacement.
Any man who has used AndroGel and has suffered significant injury, such as stroke, heart attack, or cardiac arrest may be eligible to file a lawsuit against the pharmaceutical manufacturer, AbbVie Inc., seeking compensation for their pain and suffering. To get started on your case or to learn more about filing an AndroGel drug lawsuit, call the award winning law firm of Buckfire & Buckfire, P.C. today at (866) 280-4722.
About Buckfire & Buckfire, P.C.
The lawyers at Buckfire & Buckfire, P.C., have a reputation for meticulous case preparation-an approach that results in major verdicts and settlements for their clients. Family-owned since 1968, the award winning personal injury law firm handles dangerous drug lawsuits throughout the United States.
Find Buckfire & Buckfire, P.C. online at http://www.BuckfireLaw.com