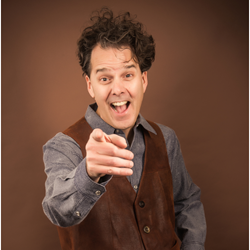 You can't have success without some failure along the way.
Eugene, Oregon (PRWEB) April 22, 2014
Kathleen Gage, host of Power Up for Profits - Inside the Heads of Amazing Experts Podcast, is pleased to announce industry expert, Brian G. Johnson, is a featured expert on the show.
Brian G. Johnson for more than a decade has been making money online by leveraging programs and systems that allowed him to quit his day job as a professional chef.
In the past ten years or so, Brian has made hundreds of thousands of dollars as an AdSense publisher, an affiliate marketer, a product vendor and a reseller of domain names and hosting services.
The path has not always been smooth as he's tried and failed many time along the way. However, he never let that stop him and continued testing, tweaking, and fearlessly taking action which ultimately led him to the success he enjoys today.
He is the author of a series of information products which include: Revenue Domains Exposed, SEOPressFormula, Commission Ritual, Auto Content Cash and Rank & Pillage, Halloween Super Affiliate, 300 Internet Marketers as well as Revenge of the Affiliates and Kindle Ritual.
Access Brian's show on iTunes at http://powerupforprofitspodcast.com/003-brian-g-johnson-internet-magic/.
Visit http://www.powerupforprofitspodcast.com to enjoy other expert episodes.
Power Up for Profits Podcast is where entrepreneur leaders from around the globe share their top strategies for entrepreneurs to Power Up for Profits to make massive amounts of money while impacting millions of people. The featured entrepreneurs and experts have extensive experience on branding, entrepreneurship, social media, making money online, social media marketing, Internet marketing, and finance.
All have a proven track record of success on being successful entrepreneurs. Power Up for Profits Podcast is the is the place to be, to hear from the best of the best entrepreneurs on how to build a successful business while making a difference in the world.
Created and hosted by author Kathleen Gage, Power Up for Profits Podcast will reveal how entrepreneurs learn the truth about building a successful six and seven figure business and gain incredibly high levels of visibility regardless of what their area of expertise or industry.
Power Up for Profits Podcast is designed for entrepreneurs who know their business is an expression of their life's work; those committed to making a positive difference in the world.
About Kathleen Gage
Kathleen Gage has been actively marketing on the Internet since 1997. She's taught thousands her internet marketing methods in seminars and training programs.
She is the "no-nonsense, common sense" online marketing strategist, speaker, author, product creation specialist, and author of Power Up For Profits! The Smart Woman's Guide to Online Marketing. She helps entrepreneurs make money online. Her clients are driven by making a difference through their own unique voice.
As an early adopter of online marketing, Kathleen is considered to be one of the nation's most passionate speakers. She is known for cutting through the fluff and helping people leave their sob stories behind so they can stop focusing on the past and start looking towards the future. She speaks and teaches about what she believes are the core elements of a successful life: accountability, integrity, honesty, and living with passion and hope.
Kathleen Gage is available for interviews, featured blog postings, articles and articles.
To learn more and/or set up an interview, contact: Kathleen Gage at 541.746.5551 or kathleen(at)kathleengage(dot)com.