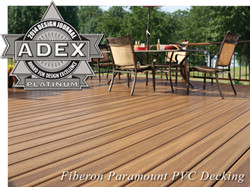 The ADEX Platinum and Gold Awards reinforce our position as the innovative leader with the introduction of our two products in 2014.
New London, North Carolina (PRWEB) May 06, 2014
Fiberon Decking has been named a Platinum and Gold Award winner for the 2014 Awards for Design Excellence (ADEX). As the largest and most prestigious awards program for design of the last 20 years, ADEX cites products that promote innovation, durability, function, and beauty.
ADEX executive director John Platter has pointed out that the contest draws thousands of entrants each year. This year, over 2000 products were considered for the ADEX distinction. Mr. Platter cites Fiberon Decking as a company that stands apart.
"The ADEX Award has recognized many outstanding product designs over the years, and Fiberon has earned its place among that elite group."
Fiberon Decking took home the Platinum Award for Paramount Decking, a durable and beautiful polymer material that combines the advantages of cellular decking alongside a highly resilient surface. The ADEX judge's citation noted the quality and beauty of the product that promises a lifetime of enjoyment.
In addition to the Platinum honor, Fiberon Decking also took home the ADEX Gold Award for its Good Life Decking product. According to the judges' notes, the winning product "makes it possible for everyone to break free from the limitations and constant upkeep of wood decking, at a price that doesn't break the bank."
When asked what the Platinum and Gold awards mean for Fiberon, CEO Doug Macosh states:
"The ADEX Platinum and Gold Awards reinforce our position as the innovative leader with the introduction of our two products in 2014. Paramount decking, our Platinum winner, is a breakthrough in beautiful wood looks with exceptional slip resistance in resilient, PVC decking."
To expand on why Fiberon Decking garnered two distinctions at this year's ADEX Award, Mancosh describes how the Paramount Decking and Good Life Decking cater to the needs of homeowners and the environment.
"[These two decking products are] a major game changer, offering an exceptional value and great looks in durable, capped composite decking at a price point closer to wood. We are honored to have been recognized by product and design professionals and continue to develop products that homeowners desire, are environmentally-friendly and easy to maintain."
All of the entries in each of the ADEX categories have potential for three award levels of platinum, gold or silver; other winners include the iPhone 6 and the Frigidaire Gallery Double Wall Oven.
Judges awarded points based on form, function, value, and fitness for the market's particular purpose. In Fiberon's case, the awards were given due to customer value, particularly how these decking products promote an enjoyable atmosphere for all involved. For more information, take a look at the winners list at http://www.designjournalmag.com.
About Fiberon
Fiberon is a leading manufacturer of wood-alternative decking, railing and fencing products available around the globe. Through cutting-edge, American-based manufacturing, Fiberon has created new benchmarks for innovation in outdoor living products. The company is a leader in sustainable practices, with innovative manufacturing processes that capture 98.5% of waste materials, and divert 50,000 tons of wood and plastic from landfills each year. Fiberon, a proud sponsor of NADRA (North American Deck and Railing Association), is privately owned with operations in North Carolina and Idaho. For more information, visit http://www.fiberondecking.com and follow Fiberon on Facebook, Pinterest, Twitter and YouTube.