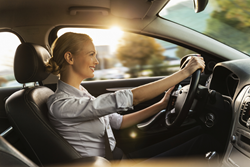 Lincoln, R.I. (PRWEB) April 21, 2014
April is Distracted Driving Awareness Month, and Amica Insurance is sharing five tips to help drivers stay focused while on the road.
According to the National Highway Traffic Safety Administration, there were 33,561 highway deaths in 2012. Of those deaths, 3,328 were the result of distraction-affected crashes.
Amica is sharing the following tips from the Governors Highway Safety Association to help prevent distracted driving:

Pay attention to the road: Eating, drinking, smoking and reading are all distractions that can take your focus away from driving, so avoid multitasking.
Forget about your cell phone: Turn it off or put it on silent mode, and place it out of reach.
Pull over: If you absolutely must make a phone call or send a text message, be sure to find a safe spot off the road to do so.
Take care of directions ahead of time: If using a GPS, set the destination before leaving. If using a map or written directions, review them before leaving, or have a passenger lend assistance while on the road.
Make sure children and pets are secure: If there are issues with either, find a safe spot off the road to address them.
About Amica Insurance
Amica Mutual Insurance Co., the nation's oldest mutual insurer of automobiles, was founded in 1907. The company, based in Lincoln, R.I., is a national writer of automobile, homeowners, marine and personal umbrella liability insurance. Life coverage is available through Amica Life Insurance Company, a wholly owned subsidiary. Amica employs more than 3,200 people in 40 offices across the country.
CONTACT: Vince Burks, Corporate Communications, 50 Amica Way, Lincoln, RI 02865-1155, 800-652-6422, ext. 24563
Twitter: Amica
Facebook: Amica Mutual Insurance Co.