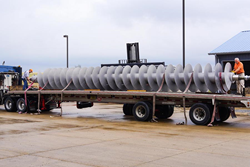 Many of our customers are not aware that we have the ability to build conveyor screws of this magnitude
Cedar Rapids, IA (PRWEB) April 29, 2014
Conveyor Engineering & Manufacturing was recently hired to build and deliver a 55" diameter x 44' 4" long conveyor screw for the Eastman Chemical Company's Kingsport, TN facility. Conveyor Engineering & Manufacturing can fabricate screws ranging from 6" to 60" in diameter and up to 48' in length for a single screw. "Many of our customers are not aware that we have the ability to build conveyor screws of this magnitude," stated Marc Miller, project manager for Conveyor Engineering & Manufacturing. A complete screw conveyor design manual is available through Conveyor Engineering & Manufacturing's website.
Special considerations that were necessary for this project included weld-in shafts for greater overall strength due to the length of the screw and 316 stainless steel flights to withstand a coarse material along with a small amount of acetic acid used as a pre-treat solution.
Today's technology has made the screw conveyor one of the most efficient and economical methods of moving bulk material. Some of the advantages of screw conveyors are:

compact and easily adapted to congested locations.
can be used to control the flow of material in processing operations which depend upon accurate batching.
are versatile and can be employed in horizontal, inclined and vertical installations.
can be used as a mixer or agitator to blend dry or fluid ingredients, provide crystallization or coagulant action, or maintain solutions in suspension.
can be sealed to prevent the escape of dust or fumes from inside the conveyor; or keep dust or moisture from entering from outside the conveyor.
can be jacketed to serve as a drier or cooler by running hot or cold water through the jacket.
can be made out of a variety of materials to resist corrosion, abrasion or heat, depending upon the product being conveyed.
can be outfitted with multiple discharge points.
Conveyor Engineering & Manufacturing is a full service supplier of screw conveyor equipment and general fabrication specialization in stainless steel. The company was established in a small shop outside Shueyville, Iowa in 1977 and now resides in a new 116,000 square foot location in Cedar Rapids, Iowa.
Conveyor Engineering & Manufacturing offers full service engineering capabilities ranging from FEA Analysis to System 3-D Modeling. Manufacturing capabilities are enhanced by the latest in equipment operated by well trained and experienced operators.