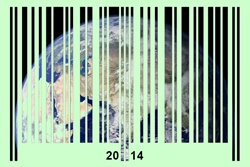 (PRWEB) April 22, 2014
To mark Earth Day, Carnegie Council for Ethics in International Affairs presents a selection of its multimedia resources from the past year. They include materials on coping with climate change, the war to save wildlife, fracking, and the scramble for food and water.
Earth Day is a good time to read the sobering March 31 UN Report, Climate Change 2014. It shows unequivocally that the effects of climate change are already occurring all across the globe, and that the world, for the most part, is ill-prepared. While it's not too late to take some action, climate change is already here and we must learn to adapt, says the report. How many wake-up calls do we need?
For links to all the materials listed below, please click here: http://www.carnegiecouncil.org/publications/picks/0044.html.
COPING WITH CLIMATE CHANGE
Blueprint or Scramble?
McKenzie Funk, Journalist; Luke Helm, Town of Jackson, Wyoming; Bjørn Lomborg, Copenhagen Business School; Janet Peace, Center for Climate and Energy Solutions; Axel Winter, ITER; Julia Taylor Kennedy, JTK Consulting
Climate change is impacting the globe in surprising ways. The Maldives might be submerged, but Canadian trade could benefit from new waterways. What's the best way forward—short-term responses or long-term solutions? (April 2014, Impact: Where Business and Ethics Meet, transcript and audio)
Climate Change Mitigation, Peacebuilding, and Resilience
Florian Krampe, Uppsala University
How are our efforts to reduce the impact of climate change affecting post-conflict societies? Drawing on his empirical data on micro hydropower development in post-conflict Nepal, Florian Krampe investigates whether climate change mitigation contributes to peacebuilding there. The results are nuanced and rather unexpected. (April 2014, Carnegie Ethics Online article)
"A Perfect Moral Storm: The Ethical Tragedy of Climate Change" by Stephen M. Gardiner
Paul Wapner, American University
The challenges and complexities of the global, intergenerational, and theoretical tempests related to climate change conspire to create the perfect storm, which undermines moral action. (January 2014, "Ethics & International Affairs" book review)
Ethics on Film: Discussion of The Island President
Alex Woodson, Carnegie Council
As "The Island President" makes clear, it is impossible to overstate the catastrophic effect global warming will have on the Maldives. During the 2009 Copenhagen Summit, an interviewer asked Mohamed Nasheed, the country's president, what Plan B is for the Indian Ocean archipelago. Without missing a beat, Nasheed answered, "None. We will all die." (July 2013, Ethics on Film review)
THE WAR FOR WILDLIFE: DISPATCHES FROM WILDLIFE CONSERVATION SOCIETY
Dogs Ally with Elephants in the Fight Against Illegal Ivory
Ruth Starkey, Wildlife Conservation Society
Sniffer dog teams are proving invaluable in the interdiction of illegal ivory and other wildlife parts as the contraband flows from Africa to Asia. (March 2014, Policy Innovations article)
A Challenge to the World: Build a Better Conservation Drone
David Wilkie, Robert Rose Wildlife Conservation Society
What would UAV (unmanned aerial vehicle) developers design if they could imagine their inventions through the eyes of front-line wildlife conservation staff? (December 2013, Policy Innovations article)
Corruption along the Vietnam-China Border Permits Massive Smuggling of Endangered Animals
Scott Roberton, Wildlife Conservation Society
Despite a recent surge in enforcement, more needs to be done to fight bribery and endangered animal smuggling on the porous Vietnam-China border. (August 2013, Policy Innovations article)
FRACKING
The Frackers: The Outrageous Inside Story of the New Billionaire Wildcatters
Gregory Zuckerman, The Wall Street Journal
Thanks to fracking and the unlikely characters who made this revolution happen, the United States is now the biggest energy producer in the world. The fracking bonanza is here to stay, argues Gregory Zuckerman, and the environmental hazards can be overcome. Our best course is to work with the industry to improve safety standards. (February 2014, Public Affairs Program, transcript, audio, and video clips)
THE SCRAMBLE FOR FOOD AND WATER
Hunger, Food Security, and the African Land Grab
Richard Schiffman, Journalist
Land and water resources are under increasing strain worldwide, resulting in rising food prices and food shortages. This essay looks at the controversial practice of foreign countries' purchases of land for agricultural production in Africa. (September 2013, "Ethics & International Affairs" article)
Founded by Andrew Carnegie in 1914, Carnegie Council for Ethics in International Affairs is an educational, nonprofit, nonpartisan organization that produces lectures, publications, and multimedia materials on the ethical challenges of living in a globalized world. For more information, go to http://www.carnegiecouncil.org.