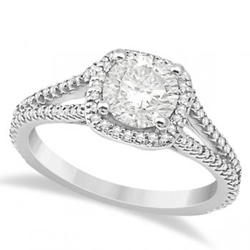 At Allurez, we are committed to providing our customers with an incomparable product variety for engagement rings and any piece of fine jewelry they desire.
New York, New York (PRWEB) April 23, 2014
According to The Knot's annual engagement and jewelry study, the average couple spends just over $5,000 on an engagement ring, up a full 6 percent from 2011. Smart retailers, both brick & mortar jewelry establishments, and their online competitors, are offering their customers a myriad of options on where to spend their engagement and bridal jewelry budget.
Many agree one of the hardest and most confusing parts of the engagement ring purchasing process is choosing the center stone diamond itself. At least one online retailer has eliminated the guesswork on diamond selection by introducing preset engagement rings.
Allurez, a leading online jewelry company and designer of fine jewelry, has created a collection of preset engagement rings. A company spokesman explained, "When you go to buy an engagement ring, you pick a setting and a diamond. Those are two very important and difficult choices. At Allurez we wanted to make it easier. Our preset engagement ring selection has all the diamonds and gemstones preselected and set with each stone, carefully selected by our expert gemologists."
It appears that most individuals looking for engagement rings garner a small education in hopes of choosing the right diamond for their desired setting. By taking the guesswork out of the process, soon-to-be brides and grooms can be assured they are getting exactly what they want.
The Allurez spokesman continued, "In an effort to make choosing the perfect engagement ring as easy as possible, we first introduced a unique three step process to design your own engagement ring. In addition, our education section provides consumers with all the pertinent information they'll need to make an intelligent and educated decision during the process. With the introduction of our preset engagement ring section, we are continuing our commitment to providing our customers with an incomparable product variety for engagement rings and any piece of fine jewelry they desire."
The new presets introduced by Allurez feature both traditional and trending engagement ring settings & styles. Consumers can choose from a full gamut of options including everything from preset vintage styles to halo designs, and unique twisted settings to engagement rings with side stone accents, even complete preset bridal sets. It certainly seems like the future is quite bright for those looking to purchase engagement rings, especially online.
About Allurez.com:
Operating as an innovative and robust retailer and designer of exceptional jewelry from the heart of NYC, Allurez is recognized for providing the largest selection of designer style jewelry for men and women including engagement rings, wedding bands, bracelets, necklaces, pendants, earrings, and certified loose diamonds. Designed using the finest metals and gemstones, Allurez provides custom made jewelry for customers seeking the finest jewelry available.
For additional information about any of Allurez products including all customized jewelry, please contact Allurez.com or call 1.800.554.3509 for details.