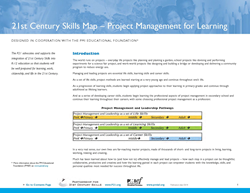 'The Project Management Skills Map is an excellent tool to build essential work and life skills and prepare students for success beyond the classroom.' - Dr. Helen Soule
Washington, DC (PRWEB) April 22, 2014
P21, the national leader advocating for 21st century readiness for all students, together with the Project Management Institute Educational Foundation (PMIEF), a non-profit charitable organization, has just released the 21st Century Skills Map – Project Management for Learning. PMIEF is part of P21's broad coalition of education, business, nonprofit, and foundation members.
Rounding out P21's existing library of content maps for Math, English, Social Studies, Science, Geography, the Arts, and World Languages, the Project Management for Learning Map provides examples for elementary, middle, and high school project-based learning from around the world, and was written with input from the world's leading experts in project management.
"Project management is both a practical 21st century life skill as well as critical business skill," explained Jeannette Barr, PMIEF Executive Director. "We are very excited to be partnering with P21 to create the 21st Century Skills Map – Project Management for Learning, which illustrates the connection between 21st century skills, project management skills and career pathways, and provides educators with project examples they can use in the classroom."
The release of this new resource provides a timely opportunity for education leaders to implement learning models that integrate core academic content mastery (the 3Rs) with the complex critical thinking and problem solving, collaboration, communication, and creativity and innovation skills (the 4Cs) required for student success in school, life and the workplace. "P21's Framework for 21st Century Learning has been used by educators all over the United States and internationally, and represents the intersection of college, career, and citizenship readiness," explained Dr. Helen Soulé, P21's Executive Director, "The Project Management Skills Map is an excellent tool to build essential work and life skills and prepare students for success beyond the classroom."
Project management teaches students how to effectively manage projects through planning, organization and other practical skills. It is a natural fit in a project-based learning (PBL) environment as it provides a framework to help students and educators manage their PBL projects. It is also a skill set that is in high demand by employers. According to the Economist Intelligence Unit – "95% of executives identified project management as 'the single most important skill for their current and future success.'"
The 21st Century Skills Map – Project Management for Learning is available for download free of charge at http://www.P21.org or http://www.pmief.org. For inquiries regarding the Project Management for Learning Map, and other P21 initiatives and resources, please contact Tatyana Warrick, Tatyana(at)p21(dot)org. For information about PMIEF and no-cost resources for use in the classroom please contact pmief(at)pmi(dot)org.
P21, its members and partners are proud to collaboratively fuel innovative and effective thinking around the future of teaching and learning.
About P21: P21 is a national organization that advocates for 21st century readiness for every student. As the United States continues to compete in a global economy that demands innovation, P21 and its members provide tools and resources to help the U.S. education system keep up by fusing the 3Rs (content knowledge) and 4Cs (critical thinking and problem solving, communication, collaboration, and creativity and innovation). While leading districts and schools are already doing this (see Exemplar Program), P21 advocates for local, state and federal policies that support this approach for every school. http://www.p21.org
About Project Management Institute Educational Foundation:
The PMI Educational Foundation (PMIEF) is a 501(c)(3) supporting organization of Project Management Institute (PMI), the world's leading not-for-profit professional membership association for the project, program and portfolio management profession. Founded in 1990, PMIEF develops, implements and delivers innovative programs to leverage project management for social good globally. These include scholarships, awards and grants as well as educational resources that strengthen both teaching and learning and disaster management. Through the generosity of individual and corporate donors as well as the PMI community, PMIEF helps build a better prepared workforce for the future, a better prepared society for future success and a better response in future times of need. For additional information, visit pmief.org.
P21 Members: Apple Inc., Bahcesehir K-12 Schools, Cable in the Classroom, The College Board, Common Sense Media, Crayola, Destination Imagination, EdLeader21, EF Education, Education Networks of America, Fisher-Price, Ford Motor Company Fund, Gale Cengage Learning, Goddard Systems Inc., Intel Corporation, JP – Inspiring Knowledge, Learning.com, LEGO Education, National Board for Professional Teaching Standards, National Education Association, PBS, Pearson Foundation, People to People Ambassador Programs, Project Management Institute Educational Foundation, U.S. Fund for UNICEF, VIF International Education, and The Walt Disney Company.