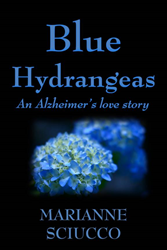 "This book is my story too." - Amazon reader, reviewer, and Alzheimer's caregiver
Middletown, NY (PRWEB) April 22, 2014
Nurse/Author Marianne Sciucco will present and read from her novel "Blue Hydrangeas," an Alzheimer's love story, on Monday, April 28th at the Alzheimer's Association's Hudson Valley/Westchester/Rockland Chapter's Spring Educational Conference "Facing Alzheimer's Disease: Improving Quality of Life." A book signing will follow.
"Blue Hydrangeas" is the poignant, beautiful story of a pair of retired Cape Cod innkeepers struggling with the wife's Alzheimer's. First published on Kindle in April of last year, then in paperback, and recently in audiobook, it has 50 reader reviews, 36 of them 5-star, and an average rating of 4.7-stars. It's hit number one in Kindle's medical fiction genre four times. It recently received IndieReCon's first ever "Best Indie Novel Award." Readers can find it on Amazon, Audible, iTunes, Nook, Kobo, Vook, the Create Space eStore, and other online retailers.
Caregivers for loved ones with Alzheimer's and other dementias have given the novel a warm reception.
"The response is humbling and surprising," says Sciucco, a registered nurse and certified case manager with years of experience working with these patients and their families in an upstate New York hospital and local nursing homes.
"When I published the book, I wasn't too sure people who had actually lived through the experience of my characters, Jack and Sara, would want to read about it as entertainment. Yet, as the reviews slowly trickle in, I'm finding that the majority of them are from caregivers who identify with the book, and they love it. Their willingness to reach out to me and show me how this book has affected their lives is both unexpected and inspiring."
Readers have written heartfelt and moving reviews:
"This book is my story too," writes one reader who cared for a mother who succumbed to the disease and now cares for her mother's widowed husband.
A reader who cared for both parents who had Alzheimer's wrote: "Thank you, Marianne, for writing a beautiful love story portraying the honest devastation of the disease, yet reinforcing the desire to preserve the dignity of those afflicted."
Another reader whose father had Alzheimer's says, "What a warm, comforting read this is!"
The conference kicks off with Sharon Johnson, director of the Hearthstone Institute, who will speak on "Montessori-based Activity Programming (MAP™) for Persons with Dementia." The Hearthstone Institute teaches the non-pharmacologic principles of its I'm Still Here™ philosophy, including the innovative use of Montessori-based principles in dementia care. Ms. Johnson has worked to bring Hearthstone's message of hope to people struggling with memory impairment all over the world, including France, Australia, and Brazil, as well as the U.S.
Psychologist Rebecca Rooney, PhD will speak on "Emotional Aspects of Caregiving." Dr. Rooney's work focuses on the evaluation, prevention, diagnosis, and treatment of mental, emotional and behavioral health issues. As a clinical psychologist, she uses psychotherapy and other counseling skills to improve emotional and mental health.
The conference runs from 8:30 a.m. - 1:00 p.m. at Orange Regional Medical Center's Conference Center, 70 East Main Street, Middletown, NY. Registration fees are $15 per person (family) and $30 per person (professional.) To register, please call 800.272.3900 or visit the Alzheimer's Association's website. Space is limited, and registration is on a first-come, first-serve basis.
About the Author
Marianne Sciucco is not a nurse who writes but a writer who happens to be a nurse. A lover of words and books, she studied the craft of writing as an English major at the University of Massachusetts at Boston and briefly worked as a newspaper reporter in New England. To avoid poverty, she became a nurse. In 2002, she began writing about the intricate lives of people struggling with health and family issues. She published her debut novel, "Blue Hydrangeas," an Alzheimer's love story, in 2013 to glowing reviews. It soon became a Kindle bestseller and recently won IndieReCon's Best Indie Novel Award. She lives in upstate New York, and, when not writing, works as a campus nurse at a community college.