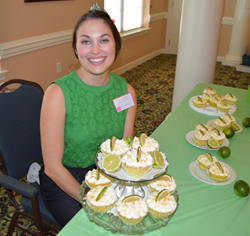 Not only did we raise money for the American Cancer Society, but we involved both our residents and people from the surrounding community.
Suffolk, VA (PRWEB) April 22, 2014
The frosting was flying recently as contestants vied for the top prize in Lake Prince Woods retirement community's Cupcake Wars.
The event, open to the public, was a fundraiser for the Lake Prince Woods American Cancer Society's Relay for Life team.
Modeled after the popular television show, the event featured both professional and amateur bakers who decorated their cupcakes for the panel of judges. After sampling them, the judges rendered their verdict based on creativity and taste.
Katelin Kight, Resident Services Assistant at Lake Prince Woods, emerged as the winner followed by Susan Glover of Simply Susan's Bakery and Cafe. Katelin's winning entry was a Key Lime Pie cupcake.
"I found a recipe online for margarita cupcakes and then adapted it so the cupcake was like a mini Key Lime pie," Katelin explained. Her baking skills were developed at an early age, since her mother was a 4-H leader.
"This has been a wonderful event," noted Judy Raymond, Lake Prince Woods Executive Director. "Not only did we raise almost $500 for the resident Relay for Life team, but we were able to involve people from the surrounding community as competitors and spectators."
Lake Prince Woods is a residential retirement community offering an array of lifestyle choices. Located in Suffolk, Virginia, the community is nestled among 172 lovely wooded acres bordering Lake Prince. As a continuing care retirement community, Lake Prince Woods offers residential living, assisted living, memory care and skilled nursing care. To learn more, visit the website: http://www.lakeprincewoods.org.