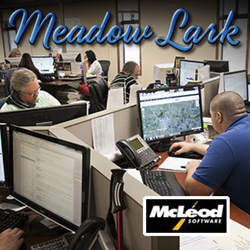 "We come up with new things every day." Theresa Campbell
Billings, MT (PRWEB) May 01, 2014
Using CRM to Drive Sales in Transportation by Aaron Huff
Meadow Lark Companies wants to ensure the best possible product for its customers. Always improving - in the past year Meadow Lark overhauled the sales department with an innovative Customer Relationship Management (CRM) and Transportation Management Software (TMS) package capable of keeping up with Meadow Lark's rapid growth.
"As a manager, it was a daunting task to go into each customer profile to see what was going on," [Today, when sales people call customers] they all use the same terminology and take the same steps. If the customer has an objection, we have the tools to act quickly. All the information they need is right there." Theresa Campbell VP of Sales.
The company uses the CRM tool across all divisions to plan and execute sales and marketing campaigns for its diverse group of customers. Campaigns are created and managed according to specific customers. For example; the offers tendered for food producers are different than those for oil rigs.
Overall, the software is helping the business stay organized and able to more successfully complete sales.
Meadow Lark Transportation Companies is a Third Party Logistics (3PL) provider based in Billings, MT. Meadow Lark provides 3PL services to businesses and operators across the lower 48, Canada, Mexico. Meadow Lark is projecting sales volume of $120 Million for the current year. Last year MLC carried over 43,000 loads and 29 Million load miles driven.