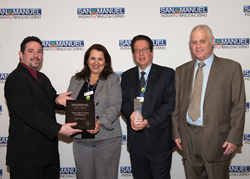 San Manuel Indian Nation, CA (PRWEB) April 21, 2014
Since July 2007, San Manuel Indian Bingo & Casino has continued its annual certification as a Responsible Gambling Establishment, becoming re-certified through March 2015. This commitment is not solely exhibited through the certification alone, but by actively serving on the Board of Directors for the California Council on Problem Gambling.
"San Manuel is not just a partner of the organization, but an actual part of it," CCPG trainer Marc Lefkowitz affirmed in a recent training session at San Manuel Indian Bingo & Casino. CCPG supports Bensinger, DuPont & Associates'1-800-GAMBLER gambling help line through its inclusion in the responsible gaming training.
He went on to state San Manuel has not just gone through the motions, but has been able "To help each employee understand the issues of problem gambling." San Manuel's culture of responsible gaming stems from the desire to create a long-term relationship with our guests, developing repeated, and responsible, visits to the casino.
Steve Lengel, Executive Director of Operations for San Manuel adds, "I am very proud of our team's work as part of the CCPG Board of Directors. They have proven that we are committed to being a true community partner, ensuring that we aim to encompass the principles of responsible gambling."
In following the seven principles for responsible gaming set forth by the CCPG, which includes specific training for all employees and detailed guidelines for addressing any signs of problem gambling. San Manuel's commitment to responsible gaming was also recognized by the California Department of Public Health's Office of Problem Gambling during a ceremony at the Problem Gaming Summit in March, 2014.
When San Manuel Indian Bingo & Casino earned the designation as a Responsible Gambling Establishment from the CCPG in 2007, it was only the second Indian casino in California to have achieved the status.
The attached picture is, from left, Robert Jacobson, Executive Director, California Council on Problem Gambling; Dianna Scina, Guest Services Director, San Manuel Indian Bingo & Casino; Steve Lengel, Executive Director of Operations, SMIBC; Marc Lefkowitz, Board Member/Trainer, CCPG.
Must be 21 to enter Casino. Please gamble responsibly.
ABOUT SAN MANUEL INDIAN BINGO & CASINO
San Manuel Indian Bingo and Casino is Southern California's one-stop destination for entertainment and fun. The casino is just 70 minutes from downtown Los Angeles and a short drive from LA-Ontario International Airport. Guests enjoy over 3,400 of the latest slots, live poker and Vegas-style blackjack, high-limit gaming, high-limit stakes bingo, incredible entertainment, sumptuous dining and generous player's reward program. Owned and operated by the San Manuel Band of Mission Indians, the casino has been providing fun and excitement since 1986. Since that time, players have received over $2 billion in cash, prizes and giveaways, making any visit to San Manuel an exciting and memorable experience. For more information on San Manuel Indian Bingo and Casino, please visit our Web site at http://www.sanmanuel.com or call 800-359-2464.