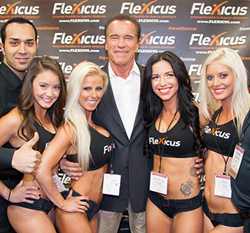 We were thrilled to have Arnold (Schwarzenegger) at the Flexicus booth.
Columbus, OH (PRWEB) April 22, 2014
Never before in its 25-year history has the Arnold Fitness Expo, held annually in Columbus, OH, seen anything like the spectacle put on this year, by a complete newcomer. The Flexicus booth featured a 15-foot tall platform atop which, world renowned contortionist, Irina Naumenko put on a performance that was quite literally, show stopping. Walkways were clogged with onlookers staring straight up as Irina dazzled the crowd with a performance she has honed for years, starring in Cirque du Soleil and the Russian Circus State Company.
The activity around the new company's launch lead to rumours flying around the show of the new brand's supposed powerful corporate sponsorship. When questioned about the rumors, Tamer Elsafy, CEO of Flexicus, responded, "We are flattered, really. They see the effort we put in to the show and Irina on top and assume we must be backed by a huge company!"
The excitement was enough to draw Arnold himself to the booth for a peek at the action. "We were thrilled to have Arnold at the Flexicus booth," explained an excited Elsafy. "He understands how important it is to not only have good strength, but to also have flexibility."