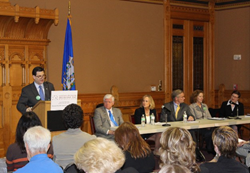 Wethersfield, CT (PRWEB) April 21, 2014
In recognition of the country's seventh National Healthcare Decisions Day, Qualidigm President and CEO Tim Elwell moderated a panel of state, national, community and healthcare leaders who passionately joined their voices and resources to educate the public about the importance of advance care planning, including "advance directives."
Despite the Patient Self-Determination Act of 1990, which affirmed the right of every U.S. citizen 18 or older to declare one's healthcare wishes through an advance directive, estimates show that only one-quarter of Americans have them. This equates to millions of Americans who have yet to plan their medical, personal, emotional and spiritual needs for their final life-stage. The ramifications are significant since studies show that about 70 percent of Americans will be unable to make medical decisions for themselves at some point in their life.
"Who will speak for you if you cannot speak for yourself due to a health emergency," Elwell asked the crowd that attended a public meeting held at the State of Connecticut's Capitol in Hartford. "There are so many benefits to being prepared by informed decision-making, which will empower your loved ones to carry out your plans with the complete confidence that they are 'doing the right thing,'" he said.
U.S. Representative John Larson (D-CT) gave the keynote, referencing how he and his siblings honored their mother's requests by keeping her at home as long as possible despite repeated episodes of heart failure. Relating his personal experience to the issue of advance directives, Congressman Larson said, "It's about respecting the desires and wishes of the individual, for the richness of the human experience lies in the humanity we show each other."
Katharine K. Lewis, deputy commissioner for the State of Connecticut's Department of Public Health, described advance care planning as a public health concern, but also a personal one. "It's estimated that less than one-third of the 60 percent of adults who want their end-of-life wishes to be respected actually have completed advanced directives," she said. "An advanced directive that reflects one's personal values and expectations is a gift to family and one that can help ensure your end-of-life wishes are honored."
Numerous studies indicate that people with advance directives more often died outside of the hospital, had life-sustaining interventions withheld, per their wishes, and received palliative care to keep them comfortable in their own home, surrounded by loved ones.
Lewis and other panelists agreed with Stephen Kiernan, award-winning journalist and author of Last Rights -- Rescuing the End of Life from the Medical System, that a family's best intentions during a health crisis could be misguided; often confusing ineffective and unwanted final-stage medical care with love. "Work up the nerve to take control," said Kiernan, who completed his own advance directive having gone through the anguish and uncertainty of seeing his father die without one. He relayed that end-stage medical costs for his father were more than $300,000 for care and interventions in an intensive care unit setting that Kiernan doubted his dad would have wanted had he completed an advance directive.
Kate McEvoy, director of the Division of Health Services at the State of Connecticut's Department of Social Services, identified some misconceptions about advance care planning and dispelled the myth that they are pricey and a lawyer is needed to complete. The State of Connecticut has a downloadable form that is free and needs no legal approval. She shared these Top 10 reasons to get an advance directive and referenced a "toolkit of resources" that is available to begin this important conversation with loves ones; calling such planning a "self-help opportunity."
Anne Elwell, Qualidigm vice president, Community Relations, representing the Connecticut Partners for Health, a 40-member healthcare stakeholder organization convened by Qualidigm, acknowledged that end-of-life planning is "admittedly a difficult conversation to have. However, anyone trying to make important, clear-headed medical decisions amid the dizzying din of a hospital monitor or respirator could ultimately find their mourning compounded with the regret and guilt of second-guessing long after someone dies. Consider that your final expression of love might be an advance directive," Elwell said.
All speakers agreed on the vital importance for individuals to discuss with their family, caretakers, and healthcare providers their advance care wishes before a medical crisis arises. They urged attendees to help raise public awareness by "leading by example" and to begin conversations centered on advance care wishes with family, friends and one's healthcare providers.
For more information about advance directives and planning, go to the National Healthcare Decisions Day website or to this Connecticut Department of Public Health advance directive form: http://ct.gov/ag/lib/ag/health/advdirectivescombinedform2006alt.pdf.
About Qualidigm:
Based in Wethersfield, Conn., Qualidigm's mission is to improve the quality, safety and cost-effectiveness of healthcare through transformational change. Qualidigm provides consulting services to public and private sector clients throughout Connecticut and nationwide. These services include Consulting, Data Analysis, Health Information Technology, Patient Safety, Quality Improvement and Utilization Review. For 30 years, Qualidigm has served as the Medicare Quality Improvement Organization (QIO) for the State of Connecticut under contract with the Centers for Medicare and Medicaid Services. In this capacity, Qualidigm is charged with protecting the rights of Medicare beneficiaries and improving the safety and quality of care they receive. Qualidigm is also a Patient Safety Organization (PSO) as designated by the State of Connecticut. http://www.Qualidigm.org
About Connecticut Partners for Health:
The Connecticut Partners for Health was convened by Qualidigm. It is a working group of more than 40 key healthcare stakeholders representing healthcare providers and trade associations, consumer organizations, health plans and payers, community-based organizations, academic institutions, government agencies, quasi-government agencies, voluntary health organizations, the regional extension center, and the business community. The group meets regularly to identify issues and develop strategies for managing healthcare-related challenges facing consumers and healthcare providers. The Partners' mission is to engage consumers to become active, informed partners in "managing" their health and healthcare. http://www.ctpartnersforhealth.org