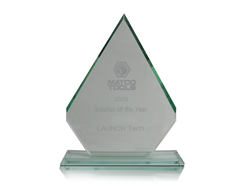 'Our dedication to a customer centric product mix that addresses the needs of Matco's customers, coupled with dedicated support, has translated into our year over year accomplishments with Matco Tools.' - Harlan Siegel, VP of Diagnostics, Launch Tech USA
Ontario, California (PRWEB) April 22, 2014
LAUNCH Tech USA announced that it has been named Matco Tools Supplier of the Year for 2013. The prestigious award was presented at this year's Matco Tools National Expo in San Antonio, Texas and follows 2011's award for the Most Improved Supplier of the Year and 2012's Supplier of the Year award.
LAUNCH Tech USA received the award as a result of exceptional growth at 145% over the previous year, making this the third year of consecutive triple digit growth as a leading supplier to Matco Tools. Unparalleled field support, corporate responsiveness and on-time delivery were also named as contributing metrics.
"We are honored to be named again as Matco Tools Supplier of the Year," said Harlan Siegel, VP of Diagnostics, Launch Tech USA. "Our dedication to a customer centric product mix that addresses the needs of Matco's customers, coupled with dedicated support, has translated into our year over year accomplishments with Matco Tools."
Launch Tech USA is a supplier and manufacturer to Matco Tools for Diagnostics Equipment including Scan Tools, Code Readers, and Fuel Injector Diagnostics/ Cleaning Equipment.