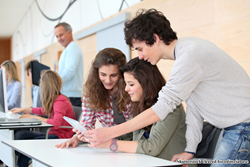 A recent contract between Teacher's Discovery and a large New York School District for state-funded Spanish eTextbooks in the classroom, signals a change in textbook acquisitions.
Auburn Hills, MI (PRWEB) April 23, 2014
A huge eTextbook deal has been struck between the Department of Catholic Schools of the Diocese of Buffalo and Teacher's Discovery®, an unexpected newcomer in the digital eTextbook market. This may signal a game-change in textbook acquisitions. Many other districts have followed.
During a recent Textbook Fair in Buffalo, textbook companies Houghton Mifflin and McGraw-Hill, among others, presented Spanish eTextbooks to the Diocese of Buffalo. All vied for the Spanish eTextbook contract, a seven figure deal. The district chose Voces® eTextbooks from Teacher's Discovery, saving the district 90% compared with the cost of textbooks from the heavyweights.
Voces Spanish eTextbook is now the state-funded Spanish textbook for Diocese middle school teachers in Buffalo, a district that includes all non-public schools and catholic schools.
Voces offers a full series of digital textbooks, including English Language Arts, grammar and writing, literature, and non-fiction, as well as American History and three levels of Spanish. As the first in the series, the Spanish textbook has already been well-received in 1,800 schools across the U.S. Here's what teachers say:
"...Voces has enabled me to add the culture piece to my teaching that I was looking for in a very authentic way...I am a 21st century teacher who uses Twitter and blogging and iPads and all sorts of technology in my classroom and Voces is the perfect fit." Lauren Beversdorf, Lake County, Illinois
"...For the first time, we have a curriculum that works and is fun; and allows us to be creative if we want to do other activities. However, it also allows absent students to look at what they missed and try to keep up!" Sue Ritchie, Burr and Burton Academy, Manchester, Vermont
One Spanish teacher remarked that other digital textbooks she's seen are just pdf reprints of the hardback books. Voces is the first eTextbook accessible entirely from one portal. Until now, teachers were forced to leave the eTextbook portal to access worksheets and activities. Teacher's Discovery is at the forefront of digital education, and their eTextbooks—both affordable and functional—can best be described as "disruptive technology." Going from extraordinarily expensive, hardbound, heavy books to portable, accessible, affordable technology, will free districts from the chains of tradition and allow students to be the focus of the future.
About Teacher's Discovery: What began as a small T-shirt business 30 years ago, soon evolved into a worldwide provider of innovative and fun educational tools, including the digital textbook series. Teacher's Discovery® scours the planet to pack classrooms with current culture, from places such as China and Mexico to Hollywood and local high school classrooms. American Eagle Company, Inc. is the parent company of Teacher's Discovery, with offices in Auburn Hills, Michigan. Skip McWilliams is the company's founder and President. Visit http://www.vocesetextbooks.com to view the Voces eTextbook.