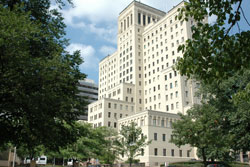 In individuals with atrial fibrillation, the LAA can actually cause harm; producing blood clots that could potentially lead to a devastating stroke.
Pittsburgh, PA (PRWEB) April 22, 2014
Allegheny General Hospital (AGH), part of Allegheny Health Network, has joined a select group of medical centers nationwide offering an innovative minimally invasive treatment that can help prevent the formation of blood clots and reduce the risk of stroke in patients with abnormal heart rhythms.
Interventional cardiologists and electrophysiologists at AGH recently performed the first procedure using the LARIAT™ Suture Delivery Device, a lasso-like suture that ties off the left atrial appendage (LAA), an area of the heart that is prone to developing blood clots.
"For most people, the left atrial appendage serves no real purpose- like an appendix," said David Lasorda, DO director of AGH's Division of Interventional Cardiology. "In individuals with atrial fibrillation (AFib), the LAA can actually cause harm; producing blood clots that could potentially lead to a devastating stroke."
In a normal heart rhythm, the top and bottom chambers of the heart beat in a coordinated fashion, allowing blood to flow effectively. In AFib, the upper chambers beat in a rapid, irregular fashion. The LAA contracts poorly in AFib and the stationary blood inside can clot. The clot can then be pumped to the brain, resulting in stroke.
While many patients with AFib can be treated with blood thinning medications to reduce their stroke risk, there have been few options for AFib patients who develop bleeding complications from treatment with a blood thinner. The LARIAT provides a new, permanent, and minimally invasive solution for these patients.
"Often, patients who required open-heart surgery for other reasons would have the LAA sutured closed during surgery to eliminate blood flow to the area and prevent the formation of clots," said AGH electrophysiologist Amit Thosani, MD. "The Lariat device allows the option of closing the LAA in a minimally invasive fashion for AFib patients at risk of stroke who cannot take blood thinners."
The lasso is inserted via needle puncture at the bottom of the breast bone and is delivered to the outside surface of the heart.
Atrial fibrillation is the most common cardiac arrhythmia and can result in palpitations, chest discomfort, and shortness of breath. According to the American Heart Association, more than 3 million people in the United States suffer from Afib and 300,000 new cases are diagnosed annually. The occurrence of Afib is responsible for a five to six fold increase in stroke incidence compared to patients with normal heart rhythm.
###