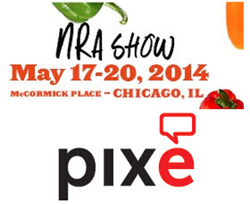 The food service industry can capitalize on the Pixe Social software to engage with their customers during, as well as after, their dining experience.
Columbia, MD (PRWEB) April 23, 2014
Pixe LLC announces it will be exhibiting Pixe Social, a revolutionary photo booth-based social marketing solution, in booth 6679 at the National Restaurant Association Show 2014 in Chicago, IL during 17-20 May 2014. Pixe is returning to NRA for the second time in a row after reaching thousands of food service professionals during and after the 2013 NRA Show.
Pixe is a major official sponsor at the NRA Show 2014 and is providing the official mobile-based photo booth solution at this premier event for the food service industry. In an exclusive promotion at this premier event, a free trial of Pixe Social will be offered to the first fifty businesses to sign up in Pixe's booth on the show floor.
Backed by cutting-edge technology and innovative marketing features, Pixe Social is deeply integrated with Facebook and Twitter in real-time. Each photo shared from the Pixe-powered photo booth prominently displays the brand's logos, and is posted with the brand's own hashtags. Pixe Social is much more than a software solution. The technology is backed by comprehensive product and marketing support.
The food service industry can capitalize on the Pixe Social software to engage with their customers during, as well as after, their dining experience. Businesses record glowing guest testimonials that express deep emotional connections with your products and share photos through social media with current fans and potential customers. The revolutionary Pixe Social software allows brands to transform a single dining experience into a valued relationship with a lifelong customer.
Recently leveraged by a number of leading food service industry providers and events, including Brad's Raw Foods, Cracker Barrel Country Store, Catersource Conference & Expo, and the Southwest Foodservice Expo, Pixe Social received rave reviews after extending the brands' reach to thousands of consumers online and increasing the brands' online visibility to over 3-4 times!
"We are so happy that we discovered Pixe Social, and have been using it for our biggest trade shows and events for the past year. The photo booth is always a huge hit with our fans and everyone always comments on how interactive and well-designed it is! We love how easy it is to customize, and the enthusiasm and assistance of the Pixe Social team has been absolutely invaluable," said the manager of Communications & Social Media for Brad's Raw Foods.
Pixe Social is also partnering with the National Restaurant Association to provide the Official NRA Show Pixe Social Photo Booth solution to engage with over 62,000 food service experts during the event.
About Pixe
Pixe LLC is a Maryland-based start-up providing simple social promotional solutions that take the challenge out of social media marketing by converting audiences into brand ambassadors. Launched in April 2013, Pixe's flagship social marketing solution - Pixe Social - helps boost the social presence of a number of leading brands and events.
About NRA
NRA Show brings the industry together for four days that shape an entire year to follow. Experience 2,000+ exhibitors, 62,000 foodservice professionals, 80+ education sessions, celebrity chefs, special events and more. Beyond that is a mix of serendipitous happenings and lucrative coincidences that can and will happen when an entire industry gets together.