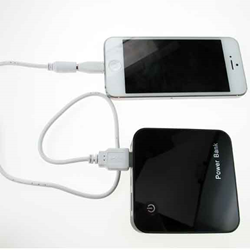 The portable Power Bank offers a simple, convenient charging solution on the go for mobile accessory. Its small size and sleek design allows you to carry it in your purse or pocket easily.
Hayward, CA (PRWEB) April 24, 2014
SF Cable, a cable manufacturing company known for distributing quality networking solutions and cables, has recently diversified its product portfolio. Bringing variety to its portable USB battery charger collection, the company has enabled its consumers to charge their electronic devices on the go. SF Cable has officially launched the new product range as a convenient charging unit for varied gadgets.
The portable USB Power Bank includes varied adapters to charge multiple devices. While discussing the main features of this battery charger, the official company representative said, "We've considered our consumers' specific needs while designing Power Bank. Having a capacity of 8400 mAh, the external battery charger can charge two electronic gadgets at the same time, such as Android tablets, Android phones, iPad, iPod, or iPhone. In fact, it can be used to provide backup power to any device that needs DC 5V to get charged."
According to the spokesperson, the Power Bank is a practical charging solution that can offer great help while traveling. When asked to highlight the idea behind the creation of this charging device, the spokesperson said, "This portable battery charger offers a simple, convenient charging solution for mobile accessory. Its small size and sleek design allows you to carry it in your purse or pocket easily. With this product, we just want to help our consumers keep their favorite gadgets charged while on the move."
The Power Bank features a Samsung battery that is more durable and more reliable than generic battery brand. While discussing the working of this external battery charger, the spokesperson said, "The front side of the Power Bank has number display LEDs indicate the battery's level while charging or discharging with on/off button. When the Power Bank is fully charged, it can provide 3-times backup battery power to your USB powered electronic device.
The company claims to provide a set of adapters with Power Bank. These adapters include a mini USB cable, micro USB cable, switch cable, and an exclusive adapter for iPhone5, 5e, 5s. It is currently available in 2 different colors. To learn more about the features of this portable external battery charger, please visit http://www.sfcable.com/SF-PB-X004.html.
About SF Cable
SF Cable has been providing high quality and affordable cables, components and accessories for computers and consumer electronics as well as custom products such as fiber optic and copper networking cables, and modular adapters, to customers since 2002. Their reputation for success is due to their large inventory, quick order turnaround time and 12 years of delivering superior new commercial information technology equipment and products in the United States. The company products are RoHS compliant and environmentally-friendly and have a lifetime warranty on cables, adapters and non-electronic products.
SF Cable, Inc.'s mission was to provide high-end cables to its customers at the lowest prices, quickly and with exceptional customer service.
The product collection of SF Cable features more than 8,000 SKUs of computer cables, home theater systems, laptop accessories, and other networking solutions. SF Cable satisfies its consumers' unique needs with quality merchandise, competitive prices, and quick delivery services.
Contact Details
SF Cable, Inc.
28300 Industrial Boulevard Suite F
Hayward, CA 94545-4439
Toll-Free: 888-275-8755
Local: 510-264-9988
Fax: 510-264-9989
Email: customerservice(at)sfcable(dot)com