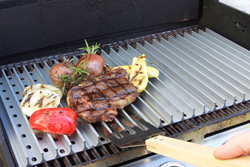 Take the guesswork out of grilling with these great gifts.
Cartersville, GA (PRWEB) April 22, 2014
Father's Day is just around the corner, and it happens to take place during the beginning of prime grilling season, making it the perfect time to give dad grill-related gifts.
Today, GrillGrate, LLC is releasing a list of must-have grill gifts and accessories that are sure to put a huge grin on any dad's face. Along with the list of recommended gifts, GrillGrate is also including a classic grill recipe that children and families can grill for, or with, their dads on Father's Day.
Top 5 Grill Gifts for Father's Day:
GrillGrates: The key to better grilling is not the heat source or the shape of his grill, it's the grill surface. GrillGrates simply lay on top of the old surface. They block flare-ups, even out hot and cold spots and keep foods juicer. GrillGrates have won multiple awards. The past 3 years the winner of the World Championship Steak Cookoff® grilled on GrillGrates. Comes with the GrateTool™. From $39.99 "I have been cooking on the grill for thirty years and thought I knew everything. I just bought 4 Grill grates and have cooked on them 8-10 times and I am completely overwhelmed at how my cooking has improved." Don T. - Leesburg, FL
Instant Digital Read Thermometer: Grilling meats to an internal temperature takes the guess work out of grilling and helps dad grill that perfect medium rare steak to 130F. Throw away the dial thermometers -- compact digital thermometers read temperatures in seconds. This compact unit hangs around dad's neck so it won't get lost. $19.99
Infrared Laser Thermometer- Knowing the temperature of the GrillGrates is very important to putting out better grilled food. Temperatures at the grill are often 100+F higher than the air in the grill. Built-in thermometers in grill hoods are notoriously inaccurate. Laser reads temps up to 1000F. Steaks, hamburgers, and fish are best grilled on a hot grill 500F+. Chicken, pork and vegetables grill best 400-450F at the grill. $49.99
Meat Temperature Magnet- A great reference chart detailing best internal temperatures for all types of grilled meats. All weather, hang inside on refrigerator or outside on the grill. Created by amazingribs.com. $5.99
A-maze-n Smoker Tube- Add smoke to every grill. Fill the stainless steel tube with pellets or wood chips. Sit on top of the grill out of the way of the food. Simply light, then blow out and let smolder for up to 2 hours. A terrific way to add smoke to gas grills. $19.99
Father's Day London Broil Recipe:
"London Broil was my Father's signature dish," said Brad Barrett, President of GrillGrate."When I saw it marinating in the refrigerator I knew we were in for a feast. In honor of Father's Day we dusted off Dad's recipe."
London Broil is a good value and is delicious when grilled and sliced fairly thin. The secret to this recipe is the Catalina Dressing. An unusually sweet and thick salad dressing makes a sweet crust on the meat and the flavor permeates the meat as well.
Ingredients:
London Broil- Minimum 2" thick- even 4" is OK (it will take 45 minutes)
Catalina Dressing
Cracked Pepper
Preparation:
Using a fork, pierce the London Broil on both sides. Just pricking the surface to allow more marinade to penetrate the meat.
Use a suitable size baking dish to hold the London Broil in a sea of Catalina Dressing.
Crack pepper over the meat and again when you turn the meat in the marinade.
Marinade for 6-12 hours turning once.
Grilling Instructions:
Medium to Medium High Heat (450F-550F- not too hot for especially thicker cuts)
Plan on 10 minutes per side
Lift and TWIST (not turn) after 5 minutes
TURN after 10 Minutes
Check for doneness after 15 minutes Use a thermometer and if it passes 120F- time to take it off, as it will continue to cook and likely reach 130F which is Medium Rare RED (not rare purple)
For extra thick cuts grill on sides for 5-10 minutes as well. Allow to rest for 5-10 minutes before carving.
About GrillGrate LLC:
GrillGrate LLC is based in Cartersville, GA. GrillGrates are manufactured in various lengths and shapes for all popular grills. GrillGrates improve the cooking performance of any grill, including gas grills, charcoal grills, kamado and pellet grills. GrillGrates are proudly made in the USA. The GrateTool™ is made in China. For further information, please visit http://www.grillgrate.com.