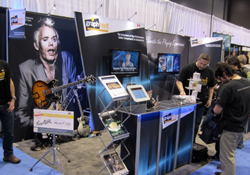 We are excited about exhibiting at the world's largest guitar show. We will have some "industry-first" products for players looking to take their tone and performance to the next level.
Delta, BC; Dallas, TX (PRWEB) April 23, 2014
Graph Tech Guitar Labs is delighted to be exhibiting at the Dallas International Guitar Festival - May 2-4, 2014. The Dallas International Guitar Festival is the world's largest and oldest guitar show, blending musicians, fans, collectors, and celebrities together into one musical extravaganza.
Graph Tech is changing the tuning experience forever with the introduction of RATIO: Tuned Machine Heads. The gear ratios in each Ratio machine head is tuned to its string position so that every string responds the same to any tuning adjustment.This design innovation makes tuning, retuning, and open tunings predictable, precise, and intuitive. For 2014, Locking RATIOS, which tons of players have been asking for, is now available for order on selected models.
Since introduced in 2012, TUSQ picks have been killing it on stage and in the studio. TUSQ picks are a whole new class of picks with three distinctive tones; original TUSQ bright, warm, and deep. TUSQ pick tones are coded by colour with white=bright, vintage=warm, and charcoal=deep tone. Choose your pick shape, gauge, and tone. New mixed packs now make finding the perfect TUSQ pick easy.
About Graph Tech Guitar Labs
Founded in 1983 by President Dave Dunwoodie, Graph Tech Guitar Labs manufactures more guitar nuts and saddles than any other company in the world. Focused on innovations to improve guitar tone and vibration for optimal performance, Graph Tech is the maker of TUSQ® and Black TUSQ® XL man-made ivory, String Saver™ saddles, String Saver Classics™ steel saddles, ResoMax™ Harmonic Bridge System, and ghost® Modular Pickup Systems. The world's leading retailers, Luthiers, and guitar manufacturers choose Graph Tech products including: Carvin, Fender, Gibson, Godin, Hagstrom, Ibanez, Jay Turser, Lag, Larrivee, Martin Guitars, Ovation, Peavey, Samick, Schecter, Epiphone Guitars, and Yamaha Custom Shop.
For more information, visit http://www.graphtech.com or call 604-940-5353.