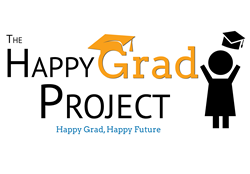 [Recent grad 13'] Tyler M said, Leaving college was like taking the training wheels off my first bike, it was time to take full control of my career.
Hampton, NH (PRWEB) April 23, 2014
CAREEREALISM, an online career advice magazine, is starting a new movement in May called The Happy Grad Project. The initiative will help change the way recent grads view their current outlook on getting hired after college.
People have always been told college is the best time of their lives, and everything changes once they have graduated and set foot into the "real world." The "real world" has always had this scary, negative connotation to it. But why?

1.6 million undergraduates expected to graduate in 2014
44% of recent grads are underemployed
2013 grads average $35,200 in college-related debt
36% of young adults ages 18-31 live with their parents
Check out this video to see what students are saying about the "real world."
The Happy Grad Project will unite recent grads, encourage them to get excited for their next step, and prepare them for the life and career ahead of them.
During the month of May, CAREEREALISM will feature practical advice on what it takes for young professionals to find a great job and create a life they love, along with real stories from grads who have achieved happiness after college.
Sign up for The Happy Grad Project (it's free!), and receive/have access to:
Over 35 high-profile experts and influencers sharing their positive and proactive strategies for success after college.
4 info-packed live webinars focused on the best ways for new grads to get ahead.
Weekly video classes called LinkedIn Labs designed to help grads leverage the most powerful career tool online.
Stories from real-life "Happy Grads" on what they did to fulfill their career dreams after college.
To register for The Happy Grad Project (it's free!), please visit CAREEREALISM.
Recent grads, have to stop letting this infectious negativity control their life, and have the power to go get the job and life they want!
About CAREEREALISM
CAREEREALISM is a privately held company with a strong entrepreneurial team and a flawless track record in superior job search assistance. The company intends to be the leading online destination for career advice, research, tools and unparalleled workforce intelligence. With extensive experience in career counseling at large companies, founder J.T. O'Donnell has created an organic platform built to share experiences, provide feedback, and suggest career counseling points that will truly drive the American workforce. For more information please visit CAREEREALISM.com.