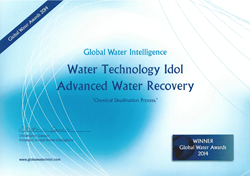 Simply groundbreaking technology.
Rapid City, SD (PRWEB) April 23, 2014
This unique multi patent pending process uses recoverable chemical saturation to concentrate and precipitate all of the salts and organics from solution, including NaCl, from almost any water source, making 100% of the water completely clean for reuse or surface water discharge. The resulting >85% dry solid waste can be selectively separated for valuable byproducts, or disposed of in an ordinary landfill.
The AWR process desalinates waters by utilizing chemistry that induces super saturation, forcing crystallization of dissolved salts at ambient temperature and no water phase changes. Dissolved solids concentrations of more than 350,000 mg/l are easliy reduced to less than 150 mg/l, while leaving only dried solids, and no liquid reject streams. This is accomplished at dramatically reduced operating and capital costs, compared to any existing high recovery technologies.
AWR is currently constructing a commercial produced water treatment facility in the Marcellus shale region, which is expected to be operating in summer of 2014.