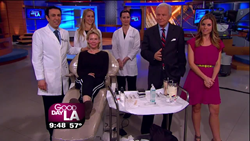 Los Angeles, CA (PRWEB) April 22, 2014
As reported in the May 2014 issue of InStyle Magazine, stress and exposure to the sun's rays can leave frown lines on one's face. However, regardless of age and genes, a person can stop or minimize the formation of lines between the eyes, as well as conceal them. Staying stress free, reducing frowning frequency, protecting the skin from UV rays, and using skin products that encourage the production of collagen, can reduce the appearance of frown lines. (see goo.gl/OP7ly4)
According to the article, twenty year olds rarely have to worry or even think about frown lines. However, constant frowning and exposure to harsh weather conditions, including exposure to direct sun rays can have their effect on the formation of lines and other skin conditions. At this age, people should work more towards preventing the formation of these lines than concealing them. They can achieve this through the use of sunscreen and anti-oxidant oils, which protect the skin from sun damage and increase the skin's suppleness.
"For those in their 30's, genes and exposure to UV rays play a role in the formation of wrinkles and lines," says Dr. Ourian, Medical Director of Epione Medical Corporation. "People of this age group should use an antioxidant serum that is rich in Vitamin C and then layer on sunscreen. The vitamins enhance the skin's production of collagen, the number one wrinkle fighter produced by the human skin. Additionally, collagen decreases the rate at which skin cells turnover. To keep lines at bay, people can use retinoid-rich products to increase the skin's plumpness and elasticity."
Further per the report, in one's 40's the appearance of wrinkles often correlates to the care one has previously taken of his or her skin, as well as ongoing exposure to direct UV rays without protection. The solution offered for reducing those lines is through the use of products that stimulate the production of collagen and increase skin renewal. Retinoid-rich products and products that have high concentrations of antioxidants serve these purposes perfectly. Silicone-based products may be used in addition to sunscreen during the day, to smooth frown lines.
"I believe that the early use of Botox injections provides a cumulative preventative effect," says Dr. Ourian. "I have many clients that start a Botox regime in their 20's. We offer the Coolaser and CoolFrax procedures to treat existing frown lines."
Dr. Ourian has been a pioneer in laser technology and non-invasive aesthetic procedures including Restylane, Juvéderm, Radiesse and Sculptra. These treatments are used for the correction or reversal of a variety of conditions such as acne, acne scars, skin discoloration, wrinkles, stretch marks, varicose veins, cellulite, and others. More information about frown lines can be found on Epione's website.