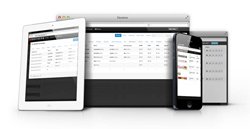 'Our goal is to fix mobile advertising,' said CEO + founder, David Dundas.
New York (PRWEB) April 22, 2014
Today, Decisive, the self-serve platform that makes it easy for anyone to advertise in mobile, announced a 400 percent growth a mere five months after its closed beta launch. With over 55% of internet traffic now coming from mobile devices, the Decisive team capitalized on the market's need for a transparent and effective solution for any advertiser to buy mobile ads using Real-Time Bidding. The advertising platform has seen over $1million spent across more than 20,000 campaigns to date.
Founded by SoHo-based mobile product, and big data experts, Decisive enables advertisers to utilize a unique set of tools to successfully advertise through mobile platforms. The platform's interface shows exactly where an advertisement is appearing in an individual app, device type and even mobile carrier. Furthermore, Decisive's live reporting dashboard updates in real-time showing every dollar spent - down to the second - making it easy for an advertiser to control budgets.
"Our goal is to fix mobile advertising," said CEO + founder, David Dundas.
"This form of advertising is so new that advertisers still must spend a ton, and do a lot of heavy lifting to find the right audiences in this medium. The suite of tools we've created uncover the best audiences with much less hassle. Any advertiser can sign up and get started with a mobile campaign in five minutes with as little as a $10 budget."
Other unique features of Decisive's platform include the SmartCPM feature, which uses machine learning to automatically adjust campaigns for the advertiser. Furthermore, the solution protects advertisers with built-in mobile click fraud protection.
To learn more, Desicive.is and follow Decisive on LinkedIn and Twitter.
About Decisive
Decisive is a New York-based company building tools that give advertisers confidence that their advertising dollars are being spent most effectively. The Decisive technology platform leverages Real-Time Bidding, proprietary performance data, and real time optimization to help advertisers reach the right consumers with the right messages on mobile devices.To learn more, visit Decisive.is and follow Decisive on Twitter.