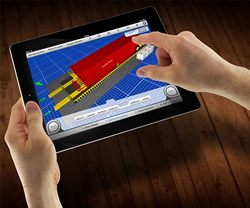 Atlatl's wow factor makes the customer's vision come to life.
Charleston, SC (PRWEB) April 22, 2014
Atlatl Software, pioneer of the software category "sales resource planning" (SRP), today announced that UltraTech International, a premier provider of environmental compliance products, is deploying Atlatl SRP to its internal sales team and external dealer/distributor partners. The Atlatl SRP deployment is aimed at streamlining the process by as much as 70 percent, while providing a unique 3D virtualized customer experience. An industry first, Atlatl SRP revolutionizes the selling and buying processes for customized spill containment products.
The growing North American oil and gas industry is driving the need for spill containment at the site where the oil is extracted and also at loading and unloading terminals. Whether transported by truck or rail, each site is unique and often requires a customized spill containment solution to comply with SPCC regulation and better protect the environment.
"We knew we had to do something transformational to capitalize on the growing oil and gas market. However, selling customized products through 2D product catalogues isn't very effective. That's where Atlatl's wow factor makes the customer's vision come to life," said Tim McGrath, Global Sales Director, UltraTech International, Inc.
The software applies the same human interface design and 3D virtualization technologies found in gaming software. It's fun and easy to use like a game, but more importantly, gives customers a life-like simulation of the UltraTech spill containment product in the customer's environment.
"If you can imagine it, you can configure and quote it in minutes—not months—right at the customer's location, and produce exactly what they envisioned. The life-like simulations prompt more discussion that often leads to revisions. Now, revisions can occur during the initial sales visit, again, in minutes, and not weeks after you've already submitted the initial quote," said Rob Honeycutt, CEO, Atlatl Software.
Atlatl SRP reduces the customization process by up to 70 percent:
The Atlatl wow factor translates into substantial savings in time, cost of sales, and manufacturing planning efficiencies. UltraTech anticipates the savings to add up over the next several weeks as the app is rolled out to its sales channels, including five direct sales reps, 55 manufacturer's reps, and more than 1000 distributors.
Prior to Atlatl SRP, UltraTech channel partners would make from three to five inquiries to the UltraTech call center for assistance with each sales opportunity for customized products. The inquiries ranged from guidance in helping customers pinpoint the right customized spill containment solution to obtaining an initial or updated quote.
With Atlatl SRP, calls will be reduced to just one to inquire about shipping costs. Any channel partner with the Atlatl SRP app can easily design and quote every possible configuration right before the customer's eyes. They see exactly what they'll get and know how the product will fit before it's even produced, removing a significant roadblock to getting the order.
"Atlatl SRP empowers reps and distributors to close deals faster. When you literally build in minutes a simulated version of exactly what the customer is looking for, they often give you the order commitment on the spot," said Honeycutt.
The high adoption rate among channel partners is another advantage of Atlatl SRP. With more channel partners inputting accurate real-time information and converting quotes to orders faster, UtltraTech will now have broader pipeline visibility to more actionable data, which they can leverage to fulfill orders even faster.
"We're pleased that Atlatl SRP is enabling UltraTech to expand its business into the burgeoning North American oil and gas industry, and look forward to hearing more good news in the weeks ahead," said Honeycutt.
About Atlatl Software:
Atlatl Software is a SixAxis LLC company based in Charleston, SC. Founded in 2012, the company's focus, like the eponymous ancient tool, is on creating incredible leverage for its customers, their sales reps and distributors. Built for sales and manufacturing by sales and manufacturing specialists, Atlatl SRP Software is the first 3D enterprise-class selling solution that uses the latest in human interface design and mobile technologies to deliver information and efficiency to sales and manufacturing professionals, helping them sell and produce more products in less time and at lower cost.
For more information, download the Atlatl SRP Software Guide, The Ultimate Sales Tool. To learn more about Atlatl SRP visit the Atlatl Software website or call (855) 762-8528.
About UltraTech International, Inc.:
UltraTech is the premier provider of environmental compliance products. Our expansive line of products for spill containment, stormwater management, construction compliance, facility protection, oil spills and microbes is the broadest and best in the industry.